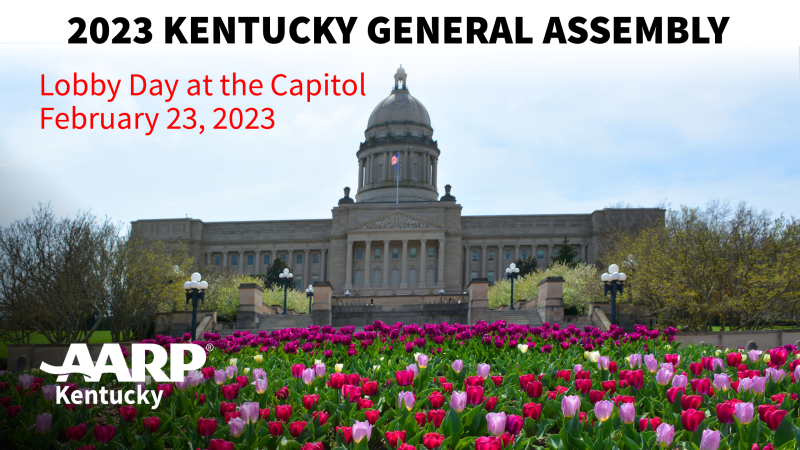 Kentuckians 50+ Set to Meet Lawmakers and Rally for Lowering Prescription Drug Costs in 2023 Kentucky General Assembly
AARP Kentucky's Annual Lobby Day in the Capitol is bringing grassroots citizen advocates from across the state to meet with their lawmakers in General Assembly.
FRANKFORT, Ky. AARP Kentucky grassroots volunteers and its state leadership will advocate for issues that matter most to people 50-plus, including fair prescription drug prices, financial relief for unpaid family caregivers, a safe and quality long-term care system, and affordable utilities. The one-on-one meetings with their legislators and the Rally in Capitol Rotunda seek to build relationships, awareness, and support for making life more affordable for all Kentuckians 50-plus.

WHAT: AARP Lobby Day and Rally in the Capitol Rotunda
WHEN: Thursday, February 23 (beginning at 8:30 a.m. ET)
WHERE: Capitol Annex Room 171 (8:30 a.m.)

Rally in Rotunda (11:30 a.m. – 12:15 p.m.)


Invited speakers include AARP volunteer leaders, legislators, and Administration Officials

Interviews available before and public Rally in Rotunda.
WHO: State legislators, AARP Kentucky Executive Council with statewide volunteers, AARP Chapter members, and citizen activists.

AARP Kentucky will never stop fighting for the health and financial security of all Kentuckians and will continue to work with the Administration and Kentucky Legislature to make Kentucky a more affordable place to live.


# # #