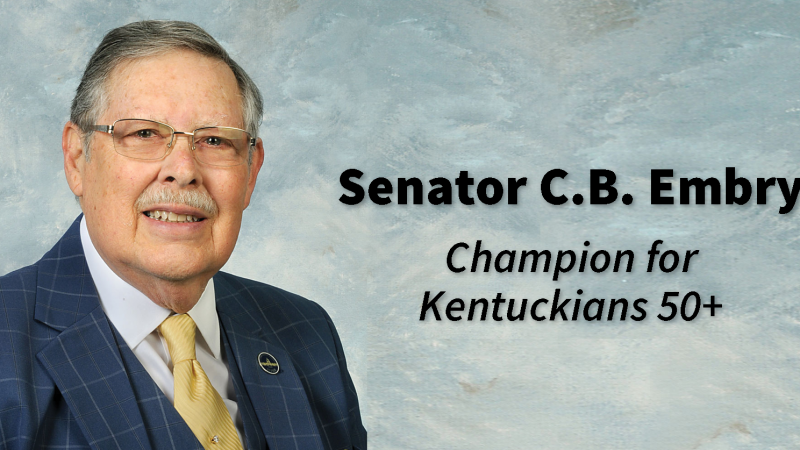 News


State Senator C.B. Embry Receives Recognition as Life-Time 'Champion of the 50+'
LOUISVILLE, Ky. AARP Kentucky announced that Senator C.B. Embry (Morgantown R-06) is the recipient of its 'Champion of the 50+' life-time legislative leadership award. The award recognizes his significant leadership achievements benefiting Kentuckians 50+ and their families.

Download News Release (PDF) News-Senator C.B. Embry Receives Award
On behalf of AARP Kentucky State Director Ron Bridges, State President Charlotte Whittaker (Hartford) presented the 'Champion of the 50+' Life-time Award to Senator Embry during a live virtual event with AARP volunteers and local constituents.

Senator Embry was recognized for his consistent support of key AARP legislative priorities including insulin costs, advancing telehealth, providing resources for the state's COVID-19 response to residents of long-term care facilities, maintaining home based services for aging Kentuckians in their communities and family caregivers. His leadership and support of legislation reflected a bipartisan and balanced, pragmatic approach to helping older Kentuckians live longer with independence and dignity in their homes and communities.

"During his long-time tenure in the Kentucky Legislature, Senator Embry has set an example of how good policy making can improve the lives of Kentuckians as we age. His commitment is nothing short of live-saving and continues helping all Kentuckians to live their best lives," said AARP State President Charlotte Whittaker. "We value his support and especially his willingness to put partisanship aside to find solutions that have a substantial impact on the lives of Kentuckians."

Senator C.B. Embry Awarded 'Champion for 50-Plus' Award
# # #