AARP Kentucky Announces Annual Real Possibilities Faith Award Nominees
Local volunteers service within their faith community are making a difference in Louisville - everyday. In 2017, AARP Kentucky launched its Real Possibilities Faith Award as one way to recognize long-serving volunteer members of Louisville's faith communities who are often "unsung heroes" who deserve extra recognition.

The 2018 Real Possibilities Faith Award winning nominees and the top winners in each category will be honored at a community celebration Thursday, June 7 at 7:00 p.m. The public is welcome to attend and help celebrate the volunteer winners and their congregation at the Crowne Plaza - Louisville Airport Expo Center located on 830 Phillips Lane, Louisville, Kentucky 40209.

The event is free and open to the public, registration is requested to attend. You have two options to register, by phone at 1-877-926-8300 or online at CVENT: KY Faith Awards Ceremony Registration.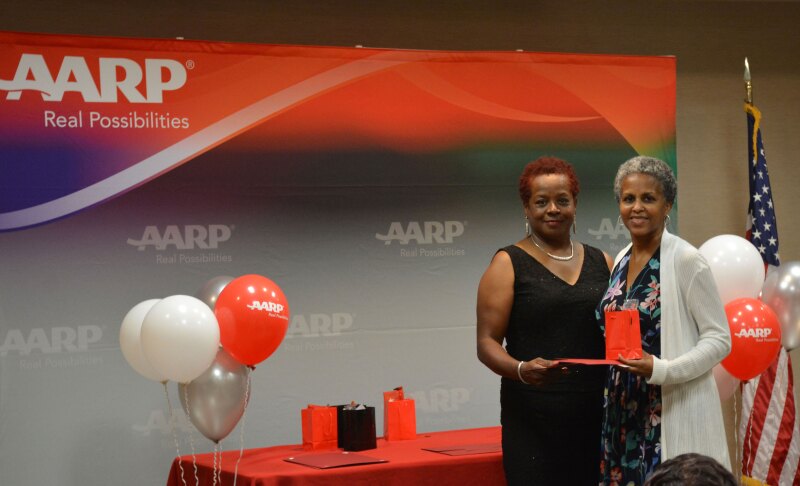 In early April, volunteer members of AARP Kentucky's Louisville team mobilized to identify and invite faith communities to nominate their faith families' "unsung heroes."

AARP Kentucky Louisville Team member, Cindy Venable, helped with the outreach and organizing effort. She says, "The AARP Real Possibilities Faith Award offers an opportunity to recognize the volunteers who provide the backbone of many faith organizations year in and year out. The ceremony in 2017 was a powerful sharing of gratitude and affection."

Nominees are scored on their efforts' impact supporting their faith group's mission and how it help improve the lives of the people around them. Every nominee receives a certificate of appreciation for their service to others. One top nominee from each faith group size category (small, medium, and large) will be awarded a 2018 AARP Real Possibilities Faith Award plaque. In addition, the nominee's Faith Community winner in each category will be presented with a $500 award check.










































































































| | | | |
| --- | --- | --- | --- |
| Congregation Size: 1-100 | Nominee | Nominee | Nominee |
| Covenant of Faith | Datina Herd Nix | Theola Richey | |
| New Morning Star Church | Frank Anderson | | |
| Church of the Living God CWFF | George Greenhill | Rosella Laird | |
| Christ Cathedral of Praise | Doris Webb | | |
| Hill Street Christian Church | Walter D. Turner | Cassandra Gholston | |
| Congregation Size: 101-250 | Nominee | | |
| Mt. Nebo Baptist Church | Kenneth E. Mitchell | | |
| Greater Good Hope Baptist Church | Lucille Smith | | |
| Mount Olive Missionary Baptist Church | Veronica P. Wright | John Manson | |
| Unity of Louisville | Alan Scherer | | |
| Greater Salem Missionary Baptist Church | Betty Garrison | | |
| Kingdom Land Baptist Church | Lawrence Norfleet | | |
| Congregation Size: 251+ | Nominee | | |
| Cable Baptist Church | Sharon Horton | Issac Coward | Addie Ezelle |
| Canaan Christian Church | Relia Bailey | | |
| First Gethsemane Baptist Church | Wanda Mitchell-Smith | Cynthia Dean | |
Watch highlights from our 2017 AARP Real Possibilities Faith Awards (courtesy of WAVE3-News)
https://youtu.be/emxWkCiyCw4