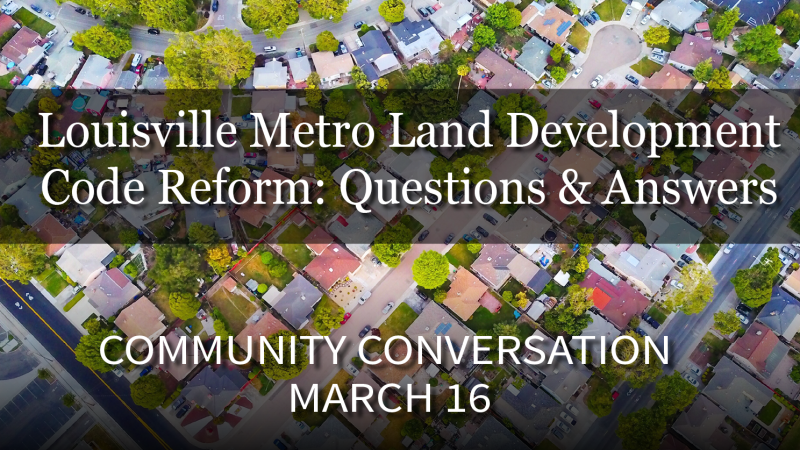 Community Conversation on Louisville Metro Land Development Code Reforms

Jefferson County residents are invited to a live and interactive Community Conversation to answer your questions on proposed reforms to the Louisville Land Development Code (via Zoom) on Tuesday, March 16, 2021 beginning at 6:00 p.m. EST. Registration is required.

Online Registration Now Open HERE.

Special guests from Metropolitan Housing Coalition, Louisville Affordable Housing Trust Fund, Louisville League of Women Voters, and AARP Kentucky will take your questions and discuss more on Louisville's Land Development Code reforms. After decades of discussion and a directive by Metro Council, Louisville Metro's Planning and Design office has conducted a review of the code. Together we will discuss some of the recommendations that have been developed in the initial stages of this review, and answer any questions that the community may have.

Louisville Metro Government is now continuing its process of updating the Land Development Code (LDC) to create more affordable housing options, including Accessory Dwelling Units, across Jefferson County. Louisville's LDC are the rules governing what land owners can do with their property. It determines the kinds of structures that can be built on private property and their uses. Part of the process in creating the recent Phase One - Recommendations (PDF) included a series of public meetings hosted by Louisville Metro Office of Planning & Design Services and its new LDC website.
What can you do?
Earlier in February 2021, Louisville Metro Planning & Design Services released its most recent list of recommended policy changes and amendments to the LDC. Now, these changes are ready for review and action by the Planning Commission, Metro Council Members, and other legislative bodies with zoning authority in Jefferson County. For more updated information about reforming Louisville Metro's Land Development Code.

Take Action - Now
AARP Kentucky is urging Jefferson County residents to make their voices heard in support of increased housing options in reforms to the Land Development Code.
✅ Please contact your Louisville Metro Council Member, Send Your Email-Here.
✅ Ask them to support the recent recommended reforms to the Land Development Code.

✅ Send your email supporting the proposed Land Development Code reforms. You may also send comments via email directly to: LDCreform@louisvilleky.gov or leave a message on the LDC reform hotline (502) 574-4737.