En español | Kentucky Gov. Andy Beshear (D) is extending no-excuse mail-in ballots to all registered voters, announcing a slew of changes that will expand in-person early voting and allow anyone concerned about the pandemic to safely vote from home:

Election Day is Tuesday, Nov. 3, and polls will be open from 6 a.m. to 6 p.m. You can find your polling location on the secretary of state's website.
Be prepared for potentially long lines, and remember to take your mask and to follow social distancing measures at the polls.

With Election Day only days away, consider dropping off your completed mail-in ballot in person. The state's board of elections has more information about where to find a ballot drop box near you.
You'll need to bring an acceptable form of identification with you to the polls.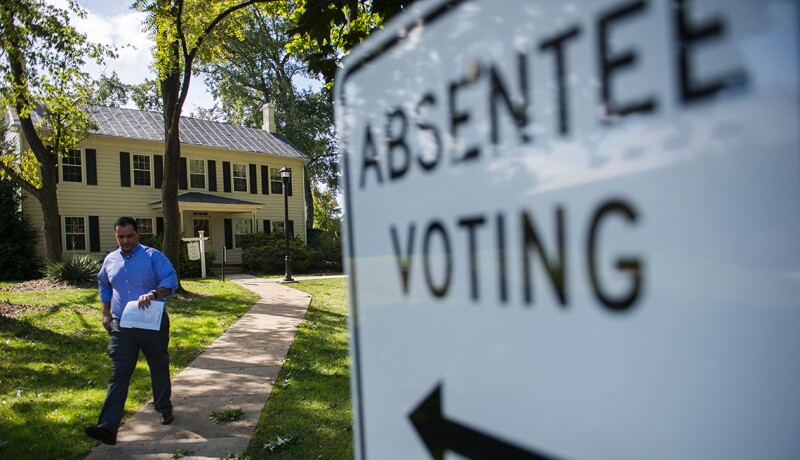 Here's what else you need to know:

How do I register to vote?

You can register online, by mail or in person. You can use the state's online voter registration portal to submit your information, or you can download a registration application and submit it to your county clerk's office or the State Board of Elections in Frankfort.

You can also pick up a voter registration application at your county clerk's office. The registration deadline is Monday, Oct. 5.

How can I get a mail-in ballot? Are there important deadlines?

Absentee ballots are usually only available to some voters, but this year you won't need an excuse to cast your ballot by mail. The state plans to launch a web portal that will let you submit a mail-in ballot request online. But you can pick one up in person at your county clerk's office. You can request a ballot through the voter portal until Oct. 9, but you'll still be able to submit a request to your county clerk's office by mail or in person until Oct. 27.

Completed absentee ballots must be returned by 6 p.m. on Election Day, Nov. 3. You'll also be able to drop your ballot into secure drop boxes, which will be made available by your county clerk's office closer to Election Day. AARP urges voters to turn in their ballots well before a deadline whenever possible.

How do I know that my absentee ballot is secure?

Kentucky's system for sealing ballots involves an inner envelope with a signature flap that's placed into an outer envelope, helping to keep the forms secure. Election workers verify the signatures on ballots with the information they have on file.

When is Election Day? When are polls open?

Tuesday, Nov. 3. Polls are open from 6 a.m. to 6 p.m. If you're in line by 6 p.m., you'll be allowed to vote. You can find your polling location on the secretary of state's website.

Can I vote in person before Election Day?

Yes, early voting will begin Oct. 13. Hours vary by location, and polls will be closed on Sundays. You won't need a reason to vote early this year. Contact your county clerk's office to see when and where you can cast your ballot before Election Day.

What form of identification do I need to vote?

Voting rights advocates are trying to overturn a new voter-ID law that will require in-person and absentee-ballot voters to present an acceptable form of photo identification. Voters must either be a personal acquaintance of a voting precinct officer or present a driver's license, Social Security card, state- or county-issued ID card, a special ID card approved in writing by the State Board of Elections, a credit card or other form of ID that includes the holder's photo and signature.

Beshear in August announced that residents who were unable to get a driver's license or photo ID because of the pandemic will be able to sign a document explaining their situation. This paperwork will be available at polling locations and will allow some voters without an approved ID to cast their ballots.

What is being done to make polling places safe from the coronavirus?

Details are still being worked out by government officials, but June's primaries included mandatory social distancing guidelines. Poll workers were provided with personal protective equipment. You may be required to wear a face covering if the state's mask mandate is extended into November.

Will I be able to vote in the same place as I always have?

Not necessarily. A shortage of poll workers this year due to the pandemic may force some locations to consolidate. Each county will also introduce one voting "super center," according to Beshear, which will allow anyone in a particular county, regardless of precinct, to cast his or her ballot. Check with your county clerk or use the state's voter portal to determine where to cast your ballot.

What are the key races in my state?

U.S. president
U.S. Senate: Incumbent Mitch McConnell (R) vs. Amy McGrath (D)
U.S. House: All 6 seats
State Senate: 19 of 38 seats
State House: All 100 seats
This guide was updated on Nov. 2 with more information about voting in person. Voting rules and procedures may change before Election Day. We'll update this story if they do, so bookmark this page and check back.

AARP is urging older Americans to ask the candidates 5 key questions:

Just over half of all older Social Security beneficiaries rely on the program for at least 50 percent of their income. If elected, how will you ensure that current and future Social Security benefits are not cut as part of deficit reduction?
Half of the people with traditional Medicare spend at least a sixth of their income on health care. If elected, how will you protect Medicare from benefit cuts, as well as lower health care costs and ensure seniors continue receiving the affordable health care they have earned?
COVID-19 has caused death and suffering for too many older Americans who require long-term care. If elected, how will you make sure seniors can access safe and affordable long-term care at home, as well as in facilities like nursing homes and assisted living?
Also of Interest