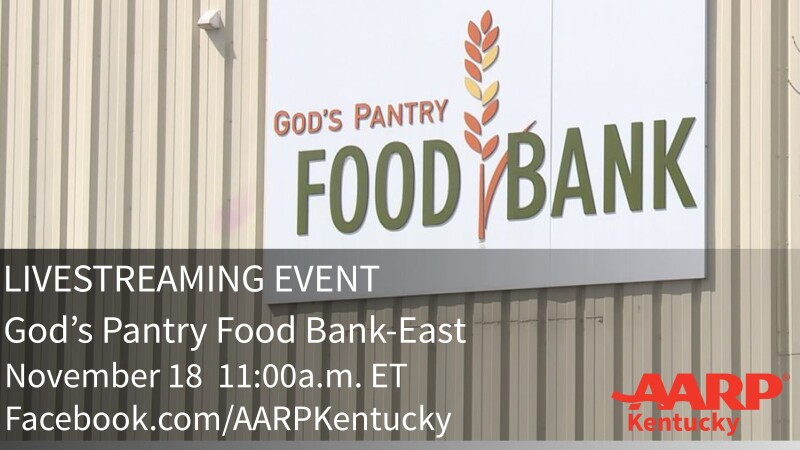 AARP Kentucky Donation Supports Fighting Hunger During COVID-19
God's Pantry Food Bank in Prestonsburg Awarded $2,000 Donation in Virtual Presentation

LOUISVILLE, Ky. – One in six Kentuckians are unsure about where they'll get their next meal. God's Pantry Food Bank-East will receive a $2,000 donation from AARP to help serve those in need across the state's Fifth Congressional District which has the highest food insecurity rate of all Kentucky congressional districts.

According to Feeding America, even before the COVID-19 pandemic, food insecurity among seniors in Kentucky was significantly higher than it was before the Great Recession. While 196,000 seniors in Kentucky are eligible for SNAP benefits, just 32% benefit from the program. Kentucky has the highest rate of food insecurity among adults age 50-59 among all 50 states, according to studies released by Feeding Kentucky, part of the nationwide Feeding America program.

WHAT: Virtual presentation to God's Pantry Food Bank-East, the $2,000 donation will help feed the hungry across its 50-county service area in Kentucky. Every year the food bank provides assistance to more than 200,000 people. Every dollar donated provides eight meals for hungry seniors and other Kentuckians in need.

WHO: AARP Jenny Wiley Chapter #3528 President John Rosenberg, AARP Kentucky State President Charlotte Whittaker, and Floyd County Judge Robert Williams, with God's Pantry Food Bank Development Director, Karen Griffin, Ph.D.

WHEN: Wednesday, November 18, 2020 11:00 a.m. EST

WHERE: Virtual Livestreaming Event via AARP Kentucky Facebook and YouTube channels:

Facebook.com/AARPKentucky YouTube: YouTube.com/AARPKY

"We're grateful to provide this contribution during the COVID-19 pandemic to support of God's Pantry Food Bank-East. We know $2,00 is only a part of what's needed every day to help serve those in need across east Kentucky," said AARP Kentucky volunteer state president, Charlotte Whittaker.

1 in 12 seniors do not know where their next meal will come from.
Poverty rates are increasing among Americans over 65 years old.
By 2025, hunger is predicted to double among seniors.

The "Hunger Among Adults Age 50-59 in 2018" report shows for the second year in a row, Kentucky has the highest rate in the nation of food insecurity among older adults. Kentucky's rate of food insecurity among adults age 50-59 was 17.3% in 2018, the most recent year for which data is available. God's Pantry Food Bank in Prestonsburg needs more than $100,000 annually to meet the needs of programs to battle food insecurity. AARP Kentucky is pleased to again donate funding to help those who are hungry now, while the search continues for long-term, sustainable answers to hunger's root causes.

More information from God's Food Pantry is available: https://godspantry.org/


# # #