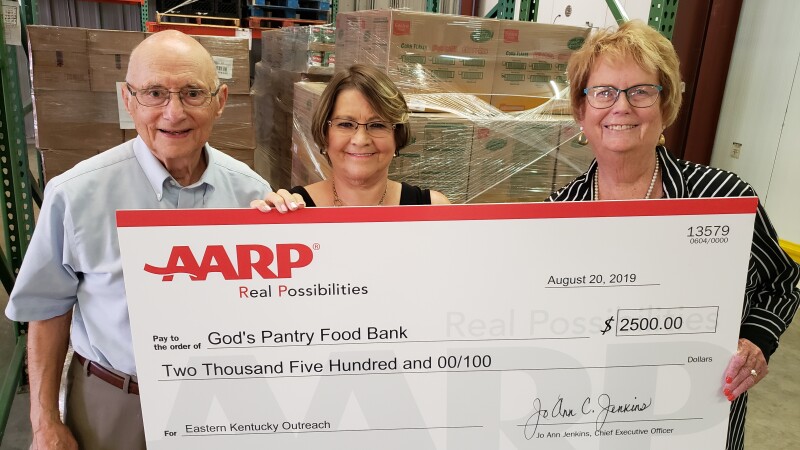 AARP Kentucky Donation Helps Fight Senior Hunger with God's Pantry Food Bank-East

Life doesn't always go as planned — especially for the 1 in 3 seniors struggling to meet their basic needs. AARP Jenny Wiley Chapter President John (and Jean) Rosenberg and their members joined AARP Kentucky State President Charlotte Whittaker and Associate State Director Daniel Roe to present a $2,500 donation to God's Pantry Food Bank-East in Prestonsburg.

Kentucky ranks 6th in the nation for seniors living with hunger, with 1 in 10 adults aged 60 and over struggling with access to food. "We're grateful to bring this contribution today and support God's Pantry Food Bank-East. We know $2,500 is only a fraction of what's needed every day to help serve those in need across the state's Fifth Congressional District," said State President Charlotte Whittaker.

God's Pantry Food Bank-East in Prestonsburg needs more than $100,000 annually to meet the needs of programs battling food insecurity in its region. AARP Kentucky is excited to again donate funding to help those who are hungry now, while we all search out long-term, sustainable answers to hunger's root causes.

Senior poverty in Kentucky is expensive for vulnerable, low-income older adults who pay in the form of poor health and high medical expenses. 63 percent of low-income seniors choose to pay for food instead of medical care. New AARP research shows while prescription drug prices continue skyrocketing, Americans are being forced to choose between filling life-saving medications or paying rent and buying food.

Watch WYMT's news coverage and learn more about the fight against hunger in Kentucky with God's Pantry Food Bank https://godspantry.org.