Christian County 5th grader, his family, and teacher honored for a heartfelt story of Grandfather's love in statewide essay contest.


LOUISVILLE, Ky. – Sebastian Dazey of Millbrooke Elementary in Hopkinsville earned top honors in the 2019 Grandparent of the Year Essay Contest sponsored by Kentucky Retired Teachers Association (KRTA) and AARP Kentucky. Sebastian Dazey and his grandfather, Danny Crunk, received statewide recognition during the 18th Annual "AARP Kentucky Grandparent of the Year" ceremony at the KRTA Convention in Louisville. The Millbrooke Elementary School (Hopkinsville) student's grandfather, Danny Crunk, is the subject of the winning essay, " AARP_KRTA_Dazey_2018-2019_Grandparent_Essay ." According to Sebastian, "My Grandfather really played a big part in my life. He helped me learn more about my dad." Mr. Crunk is retired and like many tens of thousands of Kentuckians, he is caring for and raising a grandchild.
Millbrooke Elementary 5th grade teacher, Alyssa Hollimon, encouraged Sebastian and her students to write about what makes their grandparents special. Sebastian's essay was selected from thousands of student entries across 283 schools in 98 counties in the state.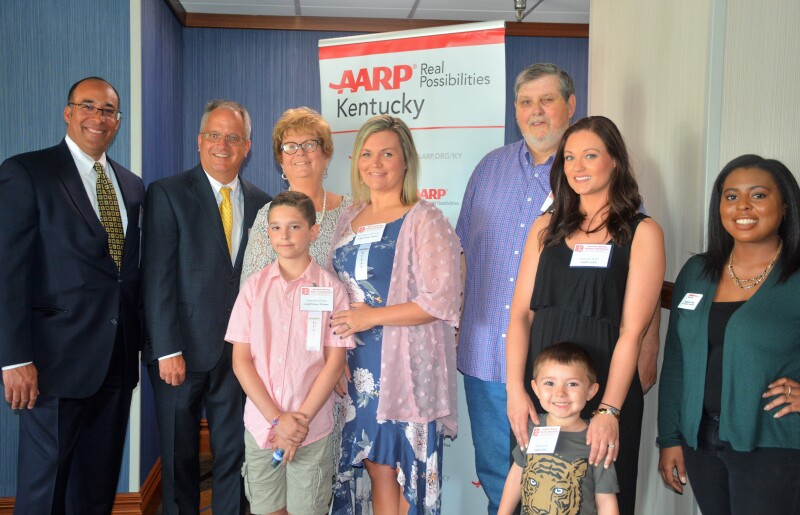 In its 18 th year, the annual contest highlights the nurturing relationship between grandparents and their grandchildren. "Now more than ever, it's important to honor these grandparents and recognize how much grandparents matter in the lives of grandchildren today," said AARP Kentucky's volunteer State President Charlotte Whittaker of Hartford. Some 95,000 Kentucky children are in the care of relatives other than their parents, most through informal arrangements but more than 15,000 placed by the state, according to Census data.
AARP Kentucky and KRTA share a long history of working together to recognize grandparents and growing the annual essay contest. Essays are judged on grammar, form, neatness, creativity, expression and characteristics of the grandparent. Local volunteers from KRTA Units facilitate the contest and the winner is selected by a panel of AARP and KRTA representatives.
Sebastian received a $100 award and special plaque, Mr. Crunk received a commemorative award platter, and Ms. Hollimon received $150 for teaching supplies.
See Sebastian's winning essay and watch his presentation on www.facebook.com/aarpkentucky. More on KRTA www.krta.org