Answers for Life's Changing Questions
A first for Kentucky, the iKnow Expo is for people of all ages who are: living out their golden years; taking care of someone they love; coping with difficult health situations or simply smart enough to know it's never too early to start planning for the future.

A free event for you, coming to the Lexington Center (430 West Vine Street, Lexington 40507) on Sunday April 14, 2013, from 12 noon to 6 p.m.

See more details. Go. Get driving directions. Do.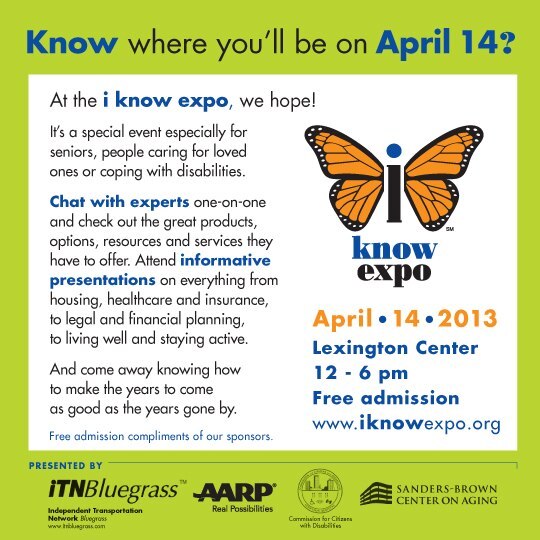 It's your opportunity to hear from dozens of experts at Lexington Center to share information, resources and advice on subjects that really matter to you:
• Know how to find services in your community to help care for a loved one.
• Know how to plan for future physical, emotional and financial well-being.
• Know how to choose the best option for housing.
• Know how to stay mobile, sharp and engaged.
• Know how to take care of yourself if you are a caregiver.
• Know how to live as independently as possible for as long as possible.
See the full day's program for much more...

Admission is free and you can walk around, pick up material and chat with experts at individual booths, sit in on informative talks about subjects of interest, enjoy art, music and entertainment. It's going to be a lively, upbeat, engaging event that can make a real difference in your life or the life of someone you love.

Help us spread the word to your friends, family, church and social groups. Connect with the iKnow Expo on Facebook.

See more details. Go. Get driving directions. Do.