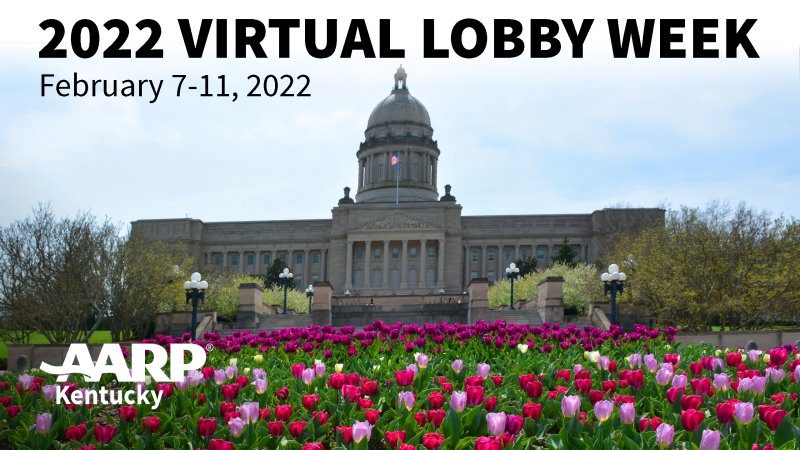 AARP Kentucky Virtual 2022 Lobby Week

Kentucky's 2022 General Assembly is underway, and the pandemic is again limiting Kentuckians' in-person access to their lawmakers. AARP volunteers and activists will be using virtual tools to advocate on behalf of Kentuckians 50-plus. You can help by monitoring the 60-day session and engaging your lawmakers remotely in support of AARP Kentucky's legislative priorities. These include: lowering prescription drug prices, eliminating health care disparities, financial security in retirement, supporting unpaid family caregivers, increasing independent living options, and affordable high-speed internet access for all Kentuckians.

AARP Kentucky offers two "How To" grassroots training sessions (January 25 or January 27) in advance to prepare volunteers, activists and chapter members on priority legislative issues, scheduling meetings with lawmakers, providing issue talking points, and how to connect with lawmakers.
Register now for Lobby Week Advocacy and Grassroots Trainings, HERE.
Volunteers will receive an email invitation with their completed registrations with ZOOM training link, details and planning tools.
RSVP to the Kentucky State Office by phone 1-877-926-8700 -or- RSVP online: https://aarp.cventevents.com/kylobbyweek22
Download and share a "Save the Date" invitation (PDF) for you and your friends, HERE.
Find and connect with to your legislators, HERE.
We need your help again to connect with lawmakers during the 2022 General Assembly and supporting the needs of Kentuckians 50-plus. Watch your email for more updates and details.
Please contact Associate State Directors Eric Evans or Daniel Roe with any questions:

Eric Evans 502-394-3427 edevans@aarp.org
Daniel Roe 502-394-3428 droe@aarp.org

Follow AARP Kentucky on social media: Twitter: @AARPKY & Facebook.com/aarpkentucky #kyga22 #AARPKY
Download Activists' Resources for 2022 Lobby Week
✅ Download - 2022 Virtual Lobby Week AARP Kentucky Key 2022 Legislative Priorities
✅ Download - Kentucky Long Term Care Scorecard
✅ Download AARP - Nursing Home COVID-19 Factsheet - Kentucky
✅ Download AARP - Kentucky Prescription Drug Prices
✅ Download AARP - 2022 Citizen Activists Virtual Resources
✅ Download AARP - Effective Meeting Tips for Lawmakers
✅ Follow Kentucky's General Assembly and more on Kentucky Educational Television KET
✅ Success with Your Zoom Meetings - Tips, Tricks and More