Madison County First Responder Selected to Receive AARP Kentucky's Most Prestigious Volunteer Award

RICHMOND, Ky. – Madison County Rescue Squad's Robert McCool has been selected by AARP Kentucky to receive the 2018 AARP Kentucky Andrus Award for Community Service -- the Association's most prestigious and visible state volunteer award for community service.

The AARP Andrus award was presented to Mr. McCool at a ceremony with AARP Kentucky State President, Executive Council Member Dr. Merrylyn Moran Smith, and State Director Ron Bridges in Richmond, Kentucky.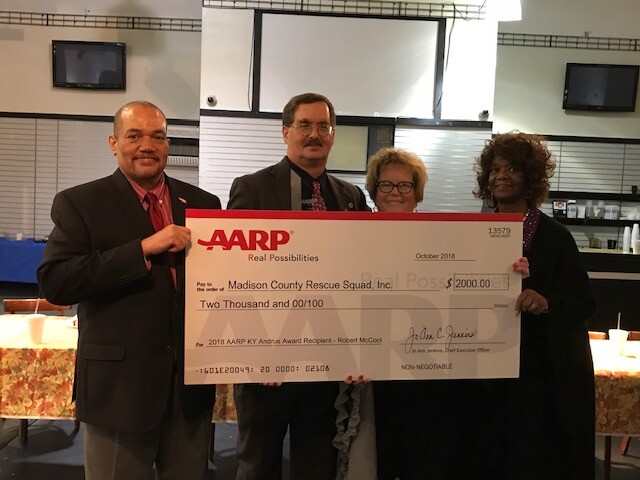 AARP Kentucky selected Mr. McCool for his remarkable 30 years of service to Madison County which has greatly benefited his community, supported AARP's vision and mission, and inspired other volunteers. McCool has been a committed volunteer for more than 30 years serving as a volunteer emergency rescue technician and EMT with the Madison County Rescue Squad, Inc., since 1988.

Serving as the Squad's training officer for two decades, he has trained hundreds of volunteer rescue personnel many of whom were over 50 and served as the coordinator and an instructor for the annual Madison County Rescue School. He volunteers as a member of the Kentucky Division of Emergency Management's state search and rescue advisory committee and as a volunteer search and rescue instructor for the Division. McCool has been a firefighter since 2005. He currently serves as the Assistant Chief for the Kirksville Volunteer Fire Department, where he handles both operational and administrative responsibilities.

He has served as a volunteer and board member for the former Daniel Boone Chapter of the American Red Cross. He has served in the historic preservation field as a volunteer and board member for the Bluegrass Railroad Museum and the non-profit Tyrone Bridge and Rail Company, a group dedicated to preserving the historic Young's High Bridge. He has supported cultural awareness as a volunteer for the Richmond Pow Wow Association, a Native American cultural group, and served people with disabilities as a volunteer for Kentucky Special Olympics.

McCool has volunteered with Habitat for Humanity, the Amateur Radio Emergency Service, volunteer coordinator of the safety and security team at Big Hill Christian Church in Richmond, Kentucky. "This award acts as a symbol to the public that we can all work together for positive social change," says State President Charlotte Whittaker. "AARP has long valued the spirit of volunteerism and the important contributions volunteers make to their communities, neighbors, and the programs they serve."

Recipients across the nation were chosen for their ability to enhance the lives of AARP members and prospective members, improve the community in or for which the work was performed, and inspire others to volunteer.