Kentucky's 2022 General Assembly has less than 13 days remaining. And several key issues for Kentuckians 50-plus remain undecided, including the state's two-year spending plan, tax reform, election law, and prescription drug costs.

Volunteers and e-Activists are driving the success of the state office's grassroots lobbying efforts - virtually. Now in the second year of the COVID-19 pandemic, volunteers are using their tech skills learned early on in 2020 to stay connected with their lawmakers. The state office plans to engage many of these same volunteers and AARP Kentucky Executive Council members in voter outreach as the May Primaries and November General Elections. (Stay up-to-date on election news by texting "KYvotes" to 22777 and learn more at aarp.org/kyvotes)

During the 2022 Virtual Lobby Week, dozens of volunteers and activists organized virtual One-on-One Zoom meetings with their legislators pushing for support on critical issues for Kentuckians 50-plus. Volunteers' virtual meetings were also an opportunity to for legislators to connect with and hear from their local constituents.

Among the issues discussed, they included: state budget support for home delivered meals, access to health care, retirement security, high-speed internet access, consumer utility costs, and family caregivers needs. One budget priority ask included funding nursing homes needs to improve COVID-19 safety measures and grow their workforce to adequately take care of nursing home residents.

Addressing the high costs of prescription drugs and supporting bills (House Bill 42/Senate Bill 126) establishing emergency affordable insulin program to help diabetics that are uninsured or have self-funded plans with high deductibles afford insulin. Volunteers urged legislators to act on supporting House Bill 163 on taxing retirement income, opposing House Bill 341 removing consumer protections in utility rate cases before the Public Service Commission, and supporting House Bill 163 tax fairness for retirees by reinstating tax free income for retirees, and appropriations for high-speed internet access.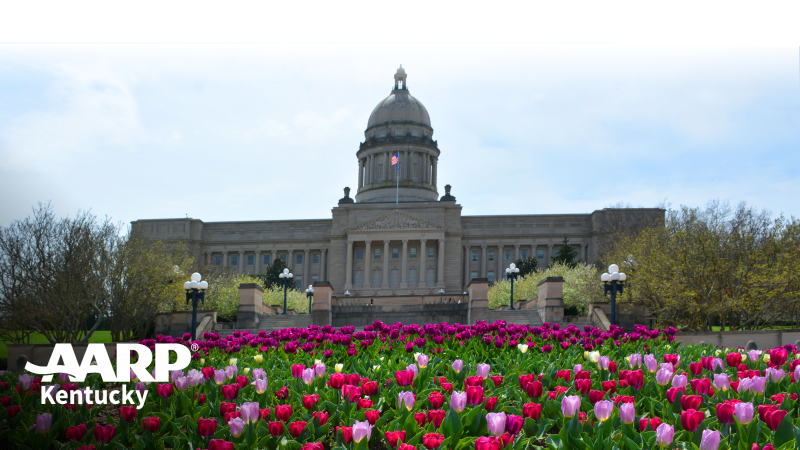 Associate State Director for Advocacy Eric Evans is continuing to provide updates and hosting a weekly legislative update. Send an email to edevans@aarp.org to receive the weekly update invite. Follow the General Assembly hashtag #kyga22 and AARP Kentucky on Twitter (@AARPKY) for real-time updates.

Learn more, here: https://states.aarp.org/kentucky/kentucky-lobby-week-2022