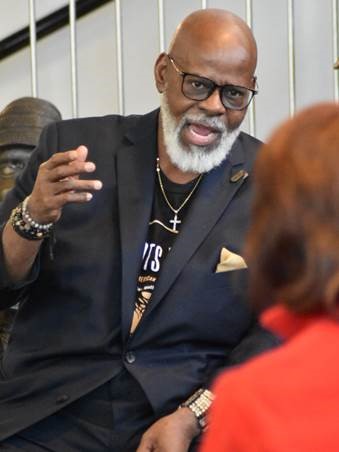 Roots 101 is more than a museum, it's a journey. Lamont Collins Founder and Curator of Roots 101 African American Museum in Louisville took AARP guests and volunteers on a journey through the African American "revelation" during Black History Month.

A unique experience where the exhibits are curated to make visitors "not just viewers of history, but part of it." The Louisville Community Team organized the event to give AARP members and their guests a discounted $5 admission fee in recognition of Black History Month. It's one more way AARP is making life more affordable for the 50+ in a series of "Fun50" discounts in Louisville.

Architectural Digest listed Roots 101 as one of its top 20 museums worldwide, in 2021 Collins and the museum were awarded a Ford Foundation Grant. Most recently, National Geographic Traveler named Roots 101 as one of six best new museums to visit for enlightening visitors on the African American experience.
AARP Kentucky thanks Lamont Collins, his staff, and volunteers for sharing an extraordinary day for our members, their guests, and Louisville Community Team volunteers. Hear more from Lamont Collins on the Aging With Grace Podcast (S3, episode), here: awg55.com/episodes/