When can older adults get the vaccine?

Maine has 285,000 age 65-plus residents, representing 21.2 percent of the population, the highest proportion in the country. Those 70 and over are eligible to begin receiving vaccines.

The state has developed tiered priority groups, largely following guidance from the federal Centers for Disease Control and Prevention (CDC). Phase 1a began in mid-December with the vaccination of health care workers and people living and working in long-term care facilities. It was expanded on Jan. 13 to include firefighters, law enforcement and corrections officers, and employees at the Maine Center for Disease Control and Prevention (Maine CDC) and at private companies such as laboratories who work directly on the state's COVID-19 response and testing program. Phase 1a is scheduled to be completed in February, according to a Jan. 13 update from Gov. Janet Mills' office.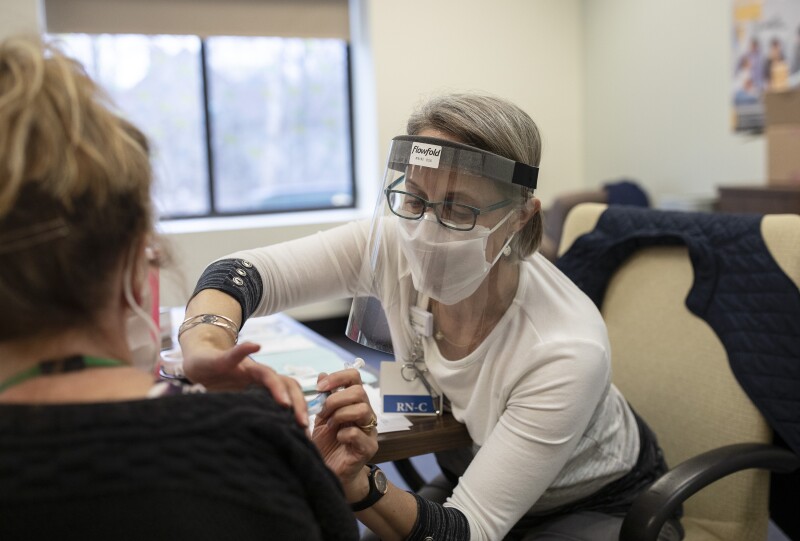 Phase 1b includes Mainers age 65-plus and people 16 to 64 with medical conditions that put them at high risk of severe complications from COVID-19, including type 2 diabetes, chronic lung or heart disease, and cancer. Those 70 and older are eligible first.

Phase 1b also includes frontline essential workers as identified by federal health officials, such as teachers and day care staff, postal and public transit employees, grocery store staff, and manufacturing and food industry workers. It is slated to be finished by April.

Phase 1c and Phase 2 include, respectively, other workers deemed critical and people ages 16 to 64 who are not vaccinated in previous tiers. These phases are planned for the spring and summer, Mills said.

AARP is fighting for older Americans to be prioritized in getting COVID-19 vaccines because the science has shown that older people are at higher risk of death. AARP Maine outlined these and other vaccine recommendations in a Jan. 7 letter to the governor.

How do I know when I'm able to get a vaccine?

AARP recommends that you talk to your doctor about the safety, effectiveness, benefits and risks of the COVID-19 vaccine. Older adults, especially those with underlying medical conditions like heart disease and diabetes, are at increased risk for hospitalization and death from COVID-19.

Notification of people in the various priority groups "is going to depend on which of those categories they fall into," Nirav Shah, the director of Maine CDC, said in late December. Notification could come from a person's employer, medical provider or from Maine CDC. Check the state's COVID-19 vaccination page for updates.

Where can I get a vaccine? 

Vaccines are going to people in the Phase 1a group at workplaces such as hospitals and emergency services locations and at long-term care facilities. A state web page lists vaccine sites and scheduling information for those age 70-plus.

The state immunization program has enrolled or is working to enroll pharmacies, physicians, federally qualified community clinics, tribal health centers, mobile vaccination providers, and urgent care clinics as COVID-19 inoculation sites as vaccination moves into later phases. Large workplaces that in the past have offered on-site flu shots for employees also may be tapped.

I've heard that some vaccines require a second shot.

The initial COVID-19 vaccines from Pfizer and Moderna require two doses. If you get one of these vaccines, you'll need a follow-up dose a few weeks later to be effectively immunized.

"What you have is you get some degree, not optimal, but some degree of immunity a couple of weeks after the first dose," Anthony Fauci, director of the National Institute of Allergy and Infectious Diseases, said in December. "That's not optimal. After the second dose, you get optimal immunity anywhere from seven to 10 days after the second dose."

CDC has launched a web tool called v-safe that lets you sign up for text message reminders for your second vaccine appointment and report possible side effects. In addition, Maine is encouraging vaccine providers to use reminder tools in their electronic medical records systems and the state's immunization data system for notifying patients and scheduling their second shots.

How will nursing home and other long-term care residents get the vaccine?

The federal government has contracted with CVS and Walgreens to administer the COVID-19 vaccines at no cost to long-term care residents and staff. CVS is partnering with more than 40,000 facilities, including nursing homes, assisted living communities and other types of long-term care facilities, to provide vaccines to up to 4 million residents and staff through the program. Walgreens is providing vaccines to up to 3 million residents and staff at roughly 35,000 facilities.

Maine is taking part in the federal program, and the pharmacy chains will operate vaccine clinics at most long-term care facilities. A handful of independent pharmacies are also serving long-term care communities. Vaccination at Maine nursing homes started Dec. 21, and CVS and Walgreens say they expect to finish providing first doses at facilities nationwide by Jan. 25.\

Do I have to pay for the vaccination?

AARP fought to make sure the federal government is covering the cost of the vaccine itself. But the CDC says vaccine providers may still charge a fee for giving someone a shot. The Centers for Medicare & Medicaid Services has said the vaccine will be administered free to Medicare beneficiaries with no copays. Some health insurance companies also have announced no out-of-pocket costs for policyholders.

There are already reports of scammers purporting to offer COVID vaccines and treatments and trying to charge for them. AARP's Fraud Watch Network is tracking the latest scams.

How long does immunity last after I get vaccinated?

It's not yet known how long immunity from a coronavirus vaccine lasts and whether it needs to be administered on a regular basis like a flu shot.

Should I still wear a mask after getting vaccinated?

Yes. Experts still need to learn more about the protection the vaccines provide under "real-life conditions," the CDC says. It could take your body a few weeks to build up immunity after the second dose of a vaccine. And while the Pfizer and Moderna vaccines are effective at preventing symptoms of COVID-19, it's not yet clear whether someone who's been vaccinated still can catch the virus and transmit it to others.

"As we await information from our federal partners on how quickly they can provide the vaccine needed for this next phase, we recommend that Maine people continue to wear face masks in public, stay at least 6 feet apart and avoid nonessential gatherings with people who don't live with them," Shah said on Jan. 13.

AARP has also called for ongoing monitoring of vaccines, once they are authorized for public use, to identify any risks that weren't evident in the expedited development and review process.

This guide was originally published on Dec. 24. It was most recently updated on Jan. 19 with new information on vaccine eligibility for Mainers 70 and older and on the federal pharmacy program for vaccination in long-term care facilities.

Also of Interest: