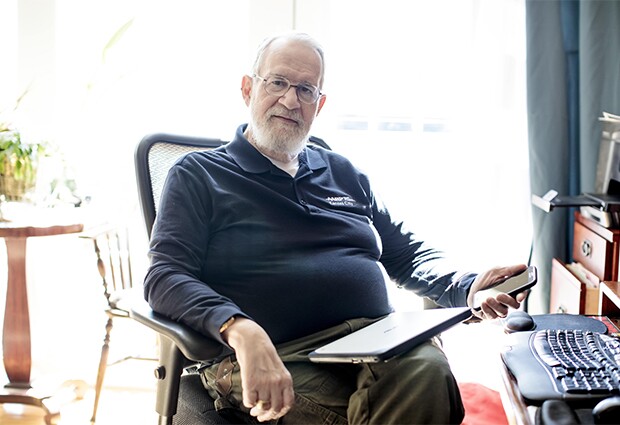 By Tim Poor

Larry Cork, 76, a retired software instructor and Air Force officer who had taught college-level courses, was looking for a volunteer opportunity when he found one that combined his skills—DIY TEK, an AARP program that teaches older adults how to use smartphones and other devices.

"The biggest problem students have is, they're not familiar with the applications," he said. "Some don't want to read the instructions. A lot just need someone to talk them through it."

Now in their fourth year, the free 90-minute mobile- and tablet-device technology classes are offered in St. Louis and Kansas City to students of all levels.

After attending the basic session, participants can take a follow-up advanced class, held directly afterward.

Phone security is one important topic the sessions cover.

"I show them how susceptible the phones are to being hacked and how to be careful," Cork said.

He gave the example of getting repeated phone calls from a number and finding that no one is at the other end.

"So you call them back to ask what they're doing, and you end up calling the Cayman Islands and get charged $40 a minute."

Cork said he enjoys not only teaching but learning from the participants and the sorts of questions they ask. "They challenge me."

Mac and PC, phones, tablets

The monthly classes in Kansas City alternate between Apple and Android devices. Each session is limited to 15 students and held at the AARP Missouri office, at 9200 Ward Parkway.

Enrollees in TECH, AARP's program in the St. Louis region, use Apple iPads in class. They are instructed on phone use also, so there's quite a bit of overlap, said Sheila Holm, AARP community outreach director in St. Louis.

Unlike the volunteer-taught classes in Kansas City, the St. Louis sessions are led by AARP staff. The goal is the same: to help older adults feel at ease. "New technology can be intimidating for some people," Holm said.

Many attendees bring their phones, and the instructors answer questions about texting, taking photos, hands-free functions, maps, editing and sharing photos, and how to be safe, including demonstrating how to protect passwords and recognize phony web addresses and phishing schemes.

The program also offers students connections to online resources, webinars, videos and tutorials. According to Sue Crawford, an AARP volunteer from Ballwin who has attended the trainings, "These classes are filled every time we have them."

She noted that the gatherings are social occasions, too—students enjoy the "camaraderie, and some become friends."

Crawford added that people often feel more comfortable attending a class with someone who is of the same generation and tech level that they are.

Even so, there's no need to feel nervous, Crawford said, as the sessions are hands-on and instructors go slowly around the room to ensure that everyone understands each topic before moving to the next.

"The teachers are very patient; they help to break down the fear of the equipment," said Crawford. "It's a fabulous program."

For more information, visit aarp.org/kansascity or aarp.org/stlouis or call 877-926-8300.

Tim Poor is a writer living in Clayton.