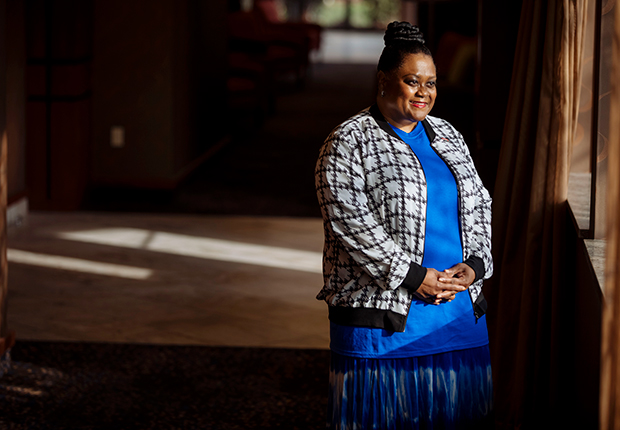 By Tim Poor

Tonya Holmes had used Skype a time or two, but stopped because she just didn't know very much about the popular application that enables video chats and phone calls on her computer.

Then she volunteered for AARP at a computer class for older users in Overland Park, a Kansas City suburb. She learned about videoconferencing on Skype and how to tell whether the calls you make are free.

Now, Holmes, 61, is a big fan of the app—and the class.

"The class really encouraged me to not be afraid of it and use it more, now that I have the tools," said the Kansas City resident.

The Kansas City-area classes began last year in a collaboration between AARP and Microsoft. "Our joint effort is helping bridge the digital divide, which is increasingly important for access to information and communication," said Diane Hall, AARP Missouri community outreach director.

More than 300 people have taken the free classes, which are also open to nonmembers. Registration is available at aarp.org/kansascity or by calling 877-926-8300 toll-free.

The workshops, offered twice a month from 10 to 11 a.m., are led by product advisers at the Overland Park Microsoft store. Participants can also make appointments for free one-on-one consultations.

"We want people to love their technology and not be afraid to use it," said Lindsey Huckeby, Microsoft's community development specialist at the store. "We try to make as many fans as possible, so that it's not just about purchasing technology but using it to its fullest benefit."

Huckeby got the idea from a similar and successful effort at a store in Chicago. She got in touch with Hall, who helped make the Missouri collaboration happen and suggested classes.

Avoiding fraud online
The most popular class, Huck­eby said, is about how to avoid fraud. Participants are shown phishing scams (attempts to get users' private information), how to avoid "pop-up" ads and how to make sure their devices are protected with security features.

Other classes have covered photo storage and increased data storage with the cloud, as well as using Skype and other apps.

"It allows them to connect with their family more easily, be able to organize their files and just be more productive," Huckeby said.

A common problem for many users is that operating systems are frequently updated, leading people to shun the new systems because they're not sure about the features.

"The visual changes may look daunting," Huckeby said. "We show them it's user-friendly. They're able to see real-world examples. We try to show them how it can be used in real life."

The workshops also offer information on how to use popular programs such as Facebook, Insta­gram and Outlook. Some of the skills that are taught, like attaching files to email, are also universally useful.

Holmes said she appreciated the store's low-key approach to sales at the workshops. "They don't pressure you at all about buying anything," she said.

Holmes has learned much by volunteering at the classes, and she's been inspired by the participants' accomplishments.

"It's beautiful to see people 60, 70, 80 taking these classes," she said. "You have to let go of your inhibitions to pick it up at this age."

Tim Poor is a writer living in Clayton, Mo.