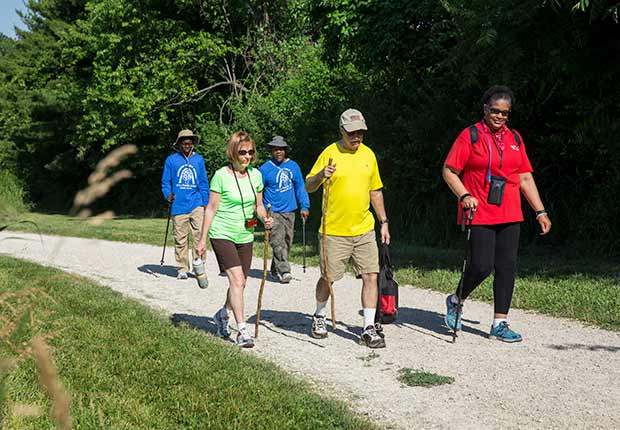 By Tim Poor

For Loretta M. Davis, leading a group of walkers isn't just about fitness.

"The idea is to get people being active," she said. "And before you know it, you've got a friend."

Davis, 62, leads AARP walks in St. Louis with Ten Toe Express, a cooperative effort of AARP and Citizens for Modern Transit, a local advocacy group. The walkers meet at a MetroLink station on Friday mornings and take the light-rail train to various urban destinations.

"We go to places I think might be fun or interesting, and we always have lunch," Davis said. They've been to Lafayette Square and Grand Center in St. Louis, and Fairmount Park racetrack in Collinsville, Ill. On another trip to Illinois, they took the train and walked back over the Mississippi River on the Eads Bridge.

"We're just out there enjoying the sights and sounds of the city," said Davis, of Florissant.

She found that older people aren't fazed by walking or unfamiliar places, but there is one barrier that keeps them at home: "People love getting out, but they don't want to go by themselves."

That's where AARP gets involved, joining with other local groups to offer activities from walks and hikes to biking events and cooking classes.

Connecting people is one of AARP's main missions, said Craig Eichelman, Missouri state director. "There are lots of cool things happening in the community that someone may not know about but can connect with through AARP."

Doing so, he said, not only gives people opportunities for social interaction, but bolsters the community as well.

Davis, an AARP volunteer for more than 10 years, is involved with many activities in St. Louis. This is her third year leading the weekly Ten Toe walks in the spring and fall. She also started an AARP-sponsored club, the Outdoor Adventure Group, which hikes in area parks and conservation areas.

In Kansas City, AARP partners with the American Volkssport Association to connect members to the group's weekly 5-kilometer hikes or walks (schedule available at clayplattetrackers.org). Last Halloween, a Haunted Hike group toured historic buildings and cemeteries. One self-guided tour features monuments downtown.

AARP is also offering monthly cooking classes with a dietitian at the Kansas City Hy-Vee Supermarket on 64th Street at I-29.

To register for hikes and classes, go to aarp.org/mo or call 877-926-8300 toll-free.

Pool party, music
In Springfield, AARP is teaming up with the Springfield-Greene County Park Board and the Library District to offer Passport to an Active Summer, with free events for all ages. Summer's Big Splash, a pool party at Fassnight Pool, 1300 S. Campbell Ave., will be held Saturday, July 16. Register at aarp.cvent.com/MOsummersbigsplash.

The final Springfield event will be Saturday, Aug. 13, when singer/songwriters Cindy Woolf and Mark Bilyeu, an Ozarks folk duo, will perform at the Library Center auditorium at 4653 S. Campbell Ave. People can register starting July 22 at aarp.cvent.com/thecreekrocks or by calling 877-926-8300.

In St. Louis, biking is a popular activity for older residents, which led AARP to become the principal sponsor of the annual Moonlight Ramble.

Thousands of riders will gather on the night of Saturday, Aug. 20, to bike through the city beginning at midnight. Typically, more than half of the riders are over 40, and more than a third are 50-plus.

AARP, which will have a booth at this year's ride, will pick up the $25 registration fee for the first 250 AARP members and their guests (go to aarp.org/stlouis).

"This is a great multigenerational event—fun for the whole family," said Sheila Holm, AARP associate state director for community outreach.
AARP will sponsor more 5- to 15-mile bike rides through St. Louis in August and October. The rides are free to AARP members, who can register at aarp.org/stlouis or by calling 877-926-8300.

The bike rides and the Ten Toe walks offer more than exercise, said Holm.

"Social isolation can be a challenge for many older adults," she said. "Opportunities like these provide ways to meet new people while maintaining a healthy and active lifestyle.

Tim Poor is a writer living in Clayton, Mo.