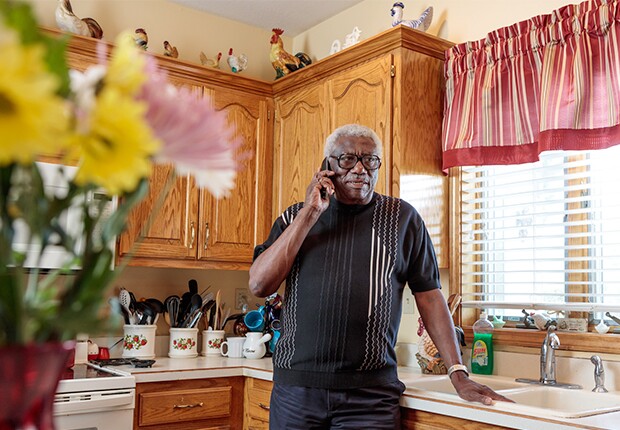 By John Reinhart

When helping older Missourians understand how to avoid fraud, the first piece of advice Sidney McCarther gives is simple: If it's too good to be true, it probably is.

McCarther, 75, of Kansas City, is the state president of AARP Missouri. In this volunteer role, he makes frequent appearances throughout the state on behalf of AARP's speakers bureau to talk about the prevalence of scams and how to avoid them.

"There are so many scammers out there," McCarther said, "and everybody is trying to take advantage of the senior population. We have to be more aware, more on our guard. Some of the scams sound so good, people really think they're legit."

A frequent scam in Missouri involves individuals posing as contractors for a major computer maker. They offer, via email or phone, to repair your computer. That can give them access to personal information, possibly including your bank account.

"These guys are pretty cagey," McCarther said.

In another common scam, a caller says you've just won an all-expenses-paid trip, but you'll have to provide bank account information in order to pay taxes on it. But there is no trip, and by the time you realize you've been taken, money has vanished from your bank account.

Beginning this summer and continuing into the fall, AARP volunteers and staff will reach out to a new and expanded audience about the dangers of the various scams that have surfaced in Missouri and how to protect against fraud. In collaboration with the Kansas City Public Library, AARP will offer a series of presentations on identity theft, cyber safety, banking and financial safety, and more.

"We want people to have the information they need to protect themselves," said Diane Hall, AARP Missouri community outreach director. "There are so many bad actors out there."

Hall said the collaboration with the library system is important because it provides people with convenient access to information by offering programs in their own neighborhood. Currently, six branches of the library have expressed interest in hosting sessions on fraud prevention this summer and fall.

The presentations at the local libraries are part of a national AARP campaign to combat fraud and identify the scams that often target older adults. The AARP Fraud Watch Network provides a variety of resources for individuals to learn more about scams and how to protect themselves. The network also has a toll-free help line: 877-908-3360.

Shredding events

In Kansas City and Springfield, AARP also conducts regular shredding events, which allow people to securely dispose of documents no longer needed but containing sensitive personal information. The events are free.

In addition, AARP regularly hosts tele-town halls. The live telephone sessions provide hundreds of people the opportunity to learn about fraud prevention.

Dates and times for the library programs will be posted at aarp.org/kansascity and kclibrary.org under Events|Classes|Activities. You can also call 866-389-5627 toll-free. Shredding events will also be listed on the AARP Kansas City webpage as they are scheduled.

Groups can schedule a speaker at aarp.cvent.com/speakersrequestform or by calling 866-389-5627 toll-free.

McCarther said it's more important than ever for people to protect themselves from fraud. He said the incidence of scams is on the rise and made all the easier due to the prevalence of so much personal information available on social media.

John Reinhart is a former strategies communications director for AARP.