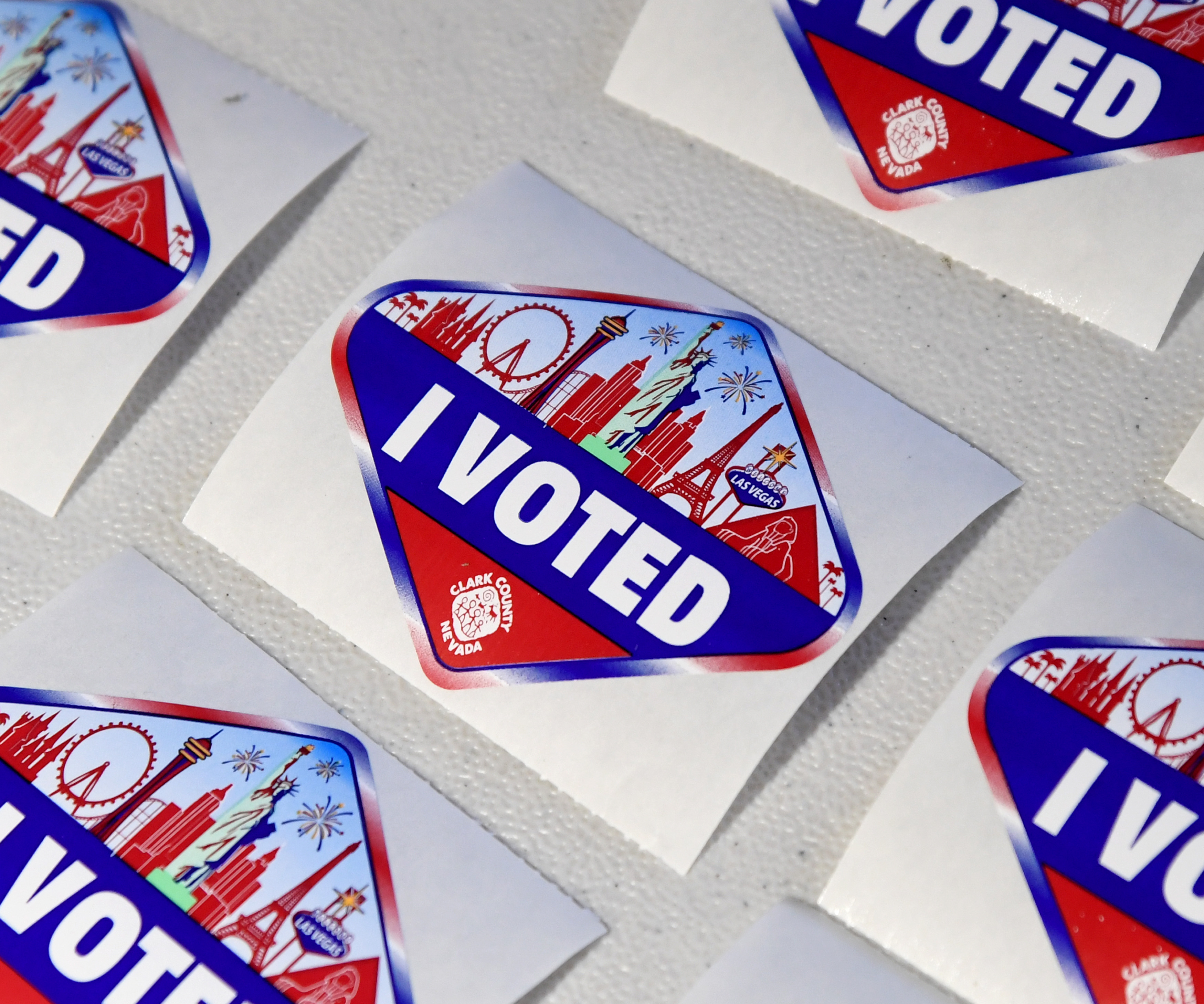 Nevada voters head to the polls Tuesday, Nov. 8, to decide between incumbent U.S. Sen. Catherine Cortez Masto and challenger Adam Laxalt. Cortez Masto, an attorney and a Democrat, is the first Latina ever elected to the U.S. Senate. She served as Nevada's attorney general from 2007 to 2015 and was elected to the Senate in 2016 to replace retiring Sen. Harry Reid (D). She grew up in Las Vegas, graduated from the University of Nevada, Reno, and Gonzaga University School of Law in Spokane, Washington.

Laxalt, who won the Republican primary in June, succeeded Cortez Masto as attorney general, serving from 2015 to 2019. He unsuccessfully ran for Nevada governor against Steve Sisolak in 2018. He grew up in Reno, and graduated from college and law school at Georgetown University in Washington, D.C. He's the grandson of Paul Laxalt, former Nevada governor and U.S. senator.

AARP approached the candidates to ask about issues important to older voters. Both supplied written answers, which were edited for clarity and length.


Social Security is the largest source of income for most older Americans. If elected, how would you protect earned Social Security benefits for the future?
LAXALT: The Social Security program represents a promise made, and it must be a promise kept. I will protect benefits for Americans who currently rely on it, as well as people who have paid into the system for decades with the expectation that it will be there for them when they reach retirement age. Unfortunately, the program is projected to run out of money because of reckless spending by Washington politicians who have raided the trust fund to pay for unrelated projects. I'll work to end that practice.

CORTEZ MASTO: Social Security is a benefit that seniors have earned. ... I sit on the Senate Finance Committee, which has oversight authority over the Social Security Administration. ... As the threat of COVID-19 has waned, I have pushed for field offices to open safely and quickly to make sure that seniors can access their benefits. I have advocated for the Social Security Administration to work more closely with community organizations that can help them meet the needs of beneficiaries as they experience workforce shortages.


Medicare provides critical health coverage for older Americans. How would you strengthen it for the future?
CORTEZ MASTO: Medicare serves more than 500,000 Nevadans. It should be a gold standard of health care coverage because it provides direct support to Americans with the most serious health needs, and it drives the market for folks who get coverage elsewhere. ... I am working right now on policies that would strengthen mental health benefits for seniors, and I look forward to working with my colleagues to strengthen Medicare itself, as well as the benefits that seniors rely on.

LAXALT: To make Medicare a better service for seniors, it's important to ensure that current and future beneficiaries have access to all information regarding the least-expensive ways to get the access to care, medication and treatment they need. We must also get rid of red tape and regulations that further drive up the costs of the program. I would also not allow cuts to Medicare to pay for new and/or expanded entitlement programs not related to the health and well-being of our seniors.


Americans pay the world's highest prescription drug prices. How will you lower prescription drug prices for all Americans?
LAXALT: To lower drug prices for all Americans, we need greater competition in the regulated pharmaceutical and insurance industries. I will make sure that generic drugs are readily available after patent protections expire and that consumers have more choices on where and how they can access the prescriptions they need.

CORTEZ MASTO: When I first ran for the Senate, this was the number 1 issue that I was hearing from so many Nevadans, and so my number 1 priority has always been lowering costs for Nevadans. That's why I worked hard to pass the Inflation Reduction Act. Medicare is now going to be able to negotiate lower prescription drug prices. ... Seniors who have struggled to pay for life-saving insulin in this state will now see their out-of-pocket costs capped at just $35.


Family caregivers provide $470 billion in unpaid care a year. How would you support unpaid family caregivers?
CORTEZ MASTO: My family and I cared for my grandmother after she was diagnosed with Alzheimer's. And through that, I understand that caregivers really need critical resources and information to do what they do every day. That was even more true during the pandemic. Both family and professional caregivers went above and beyond during that time. ... I appreciate their incredible commitment. I also know there's more that Congress can do to support our caregivers.

LAXALT: This is not an issue that will be solved by Washington politicians through a piece of legislation. Instead, we must do all we can to create an environment where our economy can return to sustained growth and prosperity for America's working families. High inflation, record gas prices, escalating food prices and unaffordable housing prices across the country didn't happen by accident. They are the consequence of bad policies being pushed by Washington politicians wreaking havoc on our families, workers and retirees.


Older workers often face age discrimination in getting or keeping jobs. If elected, how would you combat age discrimination and help older workers who need or want to continue working?
LAXALT: As Nevada's attorney general, I strictly enforced nondiscrimination laws that protected everyone's right to be fairly considered for employment. I'll do so again as senator.

CORTEZ MASTO: No Nevadan should be unfairly discriminated against because of their age. I have been working in Congress to boost Nevada's marketplace and strengthen our state's economic diversity by bringing good-paying jobs to the state that will be a part of our new clean energy workforce. And that includes older Americans who deserve a chance to take advantage of these new technologies to provide for their families and their grandchildren.


Millions of American workers have no way to save for retirement through their jobs. If elected, what steps would you take to help American workers save for their retirement?
CORTEZ MASTO: We should be narrowing the retirement savings gap among disadvantaged populations and communities of color by making it easier for them to save; we should make sure that everyone has access to tax advantaged retirement savings accounts; and we should make sure that smaller employers are incentivized to provide generous benefits to retirees just as large employers do.

LAXALT: Under President Joe Biden, Democrats have passed trillions of dollars in new spending, increasing the tax burden on American families while fueling record inflation. All of these bad policies have eaten away at the ability for workers to save for their retirement. Credit card debt held by individuals has also increased at a significant rate. By getting spending and inflation under control, easing the onerous regulations on job-creators and their productivity, and ensuring a low and stable tax structure, we can help Americans save for retirement.

Find more information at adamlaxalt.com and catherinecortezmasto.com.

Also of Interest:

AARP Nevada staff and volunteers help more than 345,000 Silver State members live their best lives. We offer news, information and resources on the issues that matter most to you.
Please stay in touch! Here's how to contact us:
AARP Nevada - 5820 S. Eastern Avenue #190, Las Vegas, NV 89119
Call:
866-389-5652
Email:
aarpnv@aarp.org
Stay up-to-date
on important news and events! "Like" us on
Facebook
, follow us on
Twitter
, follow us on
Instagram
and check out our
YouTube
channel.
Please be aware that AARP Nevada staff members serve the entire state and are often working in the community. To ensure we can best serve your specific needs, please call 866-389-5652 in advance of your visit to make an appointment with the appropriate staffer.
The
AARP Foundation
WorkSearch/Senior Community Service Employment Program (SCSEP) operates from separate locations in southern and northern Nevada. For information about this program, please contact 702-648-3356 (Las Vegas) or 775-323-2243 (Reno)
Members of the press only: Media inquiries should be directed to Erin Neff, (702) 938-3237 / eneff@aarp.org