En Espanol | New laws make it even easier to vote this year in Nevada, where residents were already able to register online, vote early, and request an absentee ballot without needing an explanation — meaning that any voter can safely cast a ballot from home during the coronavirus pandemic:

Nevada lawmakers in August passed legislation allowing state officials to mail ballots to all active registered voters this year — a group that includes registered voters who recently verified where they live and have, at minimum, voted in at least one of the last two federal elections. That move is being challenged in court by President Donald Trump's reelection campaign and by the national and state Republican party.

Early in-person voting runs from Oct. 17 to Oct. 30, helping mitigate long Election Day lines.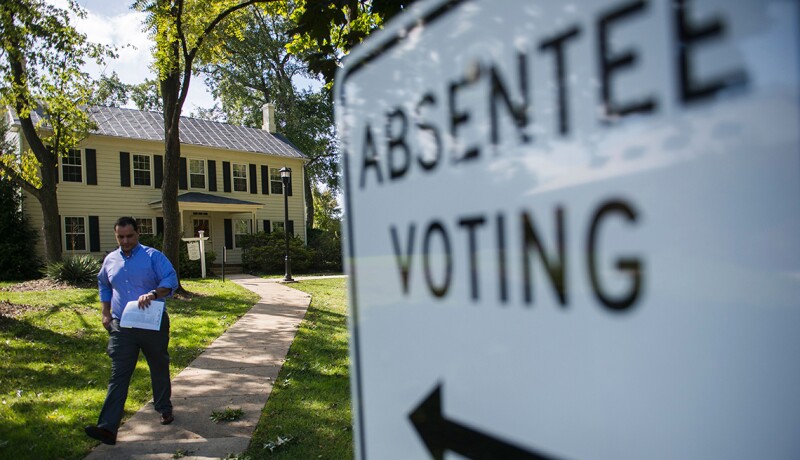 Here's what else you need to know:

How do I register to vote?

Nevadans can register online, by mail or in person. Eligible voters with a state-issued driver's license or ID can register to vote or update their voter registration, including change of address and party affiliation, online until Oct. 29. You can also download a mail-in voter registration form online. The form must be printed, signed and mailed or delivered to your county clerk or registrar of voters by Oct. 6.

You can register in person at any Department of Motor Vehicles office, at your county clerk or registrar of voters' office, at various social service agencies, and on college campuses by Oct. 6 during normal business hours. You can also register to vote or update voter registration information in person at any polling place either during early voting, from Oct. 17 to Oct. 30, or on Election Day, Nov. 3.

How can I get an absentee ballot? Are there important deadlines?

Any registered voter can request an absentee ballot without providing a reason or excuse. Download an application online or get one from your county clerk/registrar of voters. Absentee ballot requests must be postmarked or dropped off with your county clerk/registrar of voters by 5 p.m. on Oct. 20 to vote in the November general election, but requests should be submitted as early as possible.

The state has also approved plans to send all active registered voters mail-in ballots. Voters become inactive if they do not return a residency confirmation form mailed to them, if the U.S. Postal Service National Change of Address database finds that they've moved out of the county or if they fail to vote in two consecutive federal elections. Inactive voters can still be eligible to vote, but they will not automatically receive a mail-in ballot.

The Trump campaign, the Republican National Committee and the Nevada Republican Party are challenging that plan in court. Regardless of how the case plays out, Nevadans will be able to vote by mail without needing a reason.

Absentee/mail-in ballots must be postmarked to your county clerk or registrar of voters by Election Day. They can also be dropped off in person at any polling site during early voting or on Election Day.

How do I know my absentee/mail-in ballot is secure?

All absentee/mail-in ballots go through signature verification, according to Wayne Thorley, deputy secretary of state for elections. Absentee/mail-in ballots must be returned in the envelope provided and be signed by the voter. Every ballot is checked. If a voter did not sign the ballot return envelope or if the signature on the envelope does not match the signature on file, the ballot is not counted until the issue is resolved. For details on ballot security, visit the secretary of state's website.

When is Election Day? When are polls open?

Tuesday, Nov. 3. Polls are open from 7 a.m. to 7 p.m. Voters can vote at any polling place in their county.

Can I vote in person before Election Day?

Yes. Early in-person voting will take place from Oct. 17 to Oct. 30. Voters can cast a ballot at any location in their county where early voting is offered. Locations will be posted to the Nevada Secretary of State's website closer to Oct. 17

What form of identification do I need to vote?

Registered voters do not need to show ID to vote, except for first-time voters who have not voted in a previous federal election or who have never voted in their county of residence in a federal election and did not provide either a driver's license number or the last four digits of a Social Security number at the time of registration. Those voters will need some form of identification — a driver's license, state-issued ID, passport, or recent bill or bank statement. The secretary of state's website has a list of acceptable identification.

First-time voters who are voting by mail must enclose a copy of an acceptable ID or documentation with their ballot request form.

What is being done to make polling places safe from the coronavirus?

Thorley, the deputy secretary of state for elections, says there will be strict safety and sanitation policies in place at voting locations, including personal protective equipment (PPE) for election workers and regular sanitizing of frequently touched surfaces, such as touchscreen voting machines. In June, Nevada Gov. Steve Sisolak ordered all Nevadans to wear masks in public places. Masks will be available at the polls, election officials say.

Will I be able to vote in the same place as I always have?

Not necessarily. Some polling places may be combined or moved if fewer election workers are available or social distancing can't be accommodated. Check with your county clerk/registrar of voters.

What are the key races in my state?

U.S. President
U.S. House: All 4 seats
State Senate: 10 seats
State Assembly: All 42 seats
This story was updated on Sept. 16 with more information about ballot security. Voting rules and procedures may change before Election Day. We'll update this story if they do, so bookmark this page and check back.

AARP is urging older Americans to ask the candidates five key questions:

Just over half of all older Social Security beneficiaries rely on the program for at least 50 percent of their income. If elected, how will you ensure that current and future Social Security benefits are not cut as part of deficit reduction?
Half of the people with traditional Medicare spend at least a sixth of their income on health care. If elected, how will you protect Medicare from benefit cuts, as well as lower health care costs and ensure seniors continue receiving the affordable health care they have earned?
COVID-19 has caused death and suffering for too many older Americans who require long-term care. If elected, how will you make sure seniors can access safe and affordable long-term care at home, as well as in facilities like nursing homes and assisted living?
Also of Interest