Congratulations 2022 grantees!
Communities across New Jersey are working to become more livable for residents of all ages.

AARP is working in partnership with local leaders, organizations and dedicated residents to help make that vision a reality. As part of that effort, AARP is excited to announce the largest investment of grant dollars to date through the Community Challenge grant program. More than $3.4 million in quick-action grants are being distributed to 260 organizations across all 50 states, Washington D.C, Puerto Rico and the U.S. Virgin Islands.

The Community Challenge funds innovative projects that inspire change in areas such as transportation; public spaces; housing; diversity, equity, and inclusion; civic engagement; and more. This year, with additional funding support from Toyota Motor North America, the program is also increasing its investment in projects that improve mobility innovation and transportation options.

AARP is also bolstering its support of affordable and adaptable housing solutions in response to the national housing crisis, as well as those that address disparities through permanent or temporary solutions. Many of this year's projects also include ways to help communities leverage funding under the American Rescue Plan Act and the Infrastructure Investment and Jobs Act.

AARP New Jersey is incredibly proud to have eight grantees right here in our state. Our goal is to support their efforts to create great places for people of all backgrounds, ages and abilities. As local leaders seek to better their communities for the future, this becomes even more critical.

Here in New Jersey, these exciting and diverse projects were funded:

Borough of Closter
The grant will be used to repurpose a barren alley into an inviting, restful park setting that links the nearby commuter and shopper parking lot to the historic commercial area of downtown Closter. The conversion will encourage senior residents to utilize the downtown area more frequently and spend more time enjoying the outdoors. The project will also improve the surrounding public space and provide seniors with easier access to restaurants and shops. As a resting point for socializing, the pocket park will provide a sitting area with benches and ample evening lighting where seniors can safely rest between shopping, refreshing, and mingling with neighbors.

"Closter is pleased to be a recipient of the AARP Community Challenge grant, which will enable us to create a convenient gathering place for our residents, particularly our senior population as they walk from the parking area to the downtown shopping district," said Closter Mayor John C. Glidden, Jr.

Camden Community Partnership (CCP)
The grant will be used to engage the community around improving the safety and accessibility of a busy intersection that connects residents to valuable neighborhood assets and will ensure that permanent changes meet community needs. Some of the improvements include adjusting bike lanes, installing flexible delineators to protect cyclists, and adding crosswalks where they are currently missing.

"Camden Community Partnership is thrilled to have been selected for an AARP Community Challenge Grant," said Kris Kolluri Esq., President & CEO of Camden Community Partnership. "Together with AARP, we are working to provide a safer, more livable and age-friendly community for all. We look forward to engaging our senior community in upcoming infrastructure improvements designed to make our neighborhoods safer for folks using various modes of transportation. Thank you to the City of Camden, Camden County, and the Delaware Valley Regional Planning Commission (DVRPC) for committing to being instrumental partners in this work."

City of Perth Amboy
The grant will be used to paint murals on two pillars under the Outerbridge Crossing. The project will install murals to create a new public space for community events and be the first step in implementing the city's Summer Socials Under the Bridge program. Three Summer Socials Under the Bridge events will be hosted to celebrate diversity throughout the city. Events will spotlight different cultures through live entertainment, food, and activities. All events will be inclusive of all ages and abilities and encourage social connections between residents.

"This is another meaningful milestone between AARP and the City of Perth Amboy that fosters opportunities for our citizens of all ages," said Mayor Helmin J. Caba. "Thank you for selecting us for this mural project. I look forward to its unveiling alongside AARP, which will celebrate the vitality of our city's rich history and social fabric."

Jersey City Housing Authority (JCHA)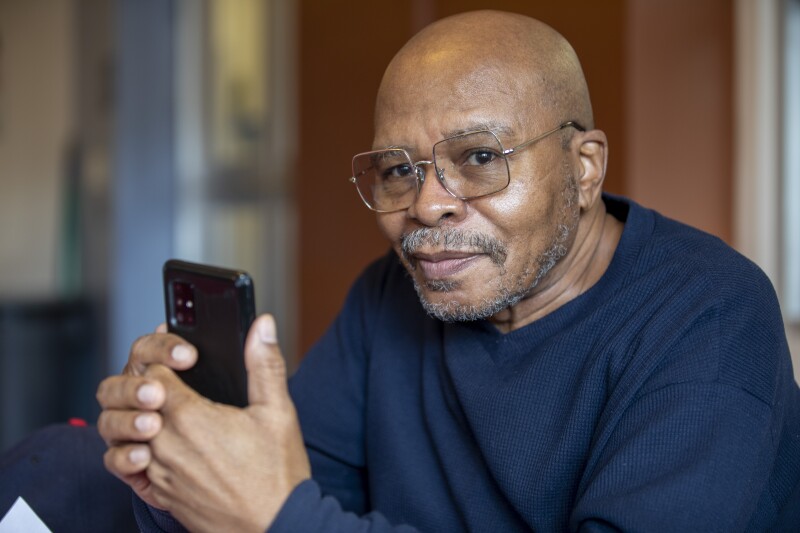 The grant will be used to provide Wi-Fi-enabled tablets to seniors in a public housing development in Jersey City. HCCC students will offer one-on-one digital literacy training to the seniors to reduce social isolation and enhance access to community resources.

"AARP has been a pivotal partner in JCHA's digital inclusion work since 2020," said Vivian Brady Phillips, Jersey City Housing Authority Executive Director. "Through their support, we've been able to offer technology, WiFi, and digital literacy training to hundreds of low-income seniors in our public housing developments. Statistically, these residents are part of one of the most digitally disconnected of all demographic groups. As a result of AARP's ongoing investments and faith in JCHA's work, we've built the capacity to tackle social isolation, increase civic engagement, and improve access to telehealth, entertainment, and distant family and friends though technology."

Kean University Foundation
The grant will be used for Walk, Share and Thrive, which is a collaboration between Kean University's Department of Occupational Therapy and The Housing Authority of the City of Elizabeth (HACE) that aims to increase health and quality of life for residents through intergenerational interaction and civic engagement.

"Volunteers will create six murals based a COVID-19 storytelling project to decrease social isolation," said Claire M. Mulry, OTD, OTR/L, CAPS, FAOTA, Associate Professor, Department of Occupational Therapy, Kean University. "An art and walkability trail with areas of play and rest for individuals of all abilities will be created that brings the residents' stories to life and creates community."

Metuchen Downtown Alliance
The grant will be used to transform two parking spaces at a street corner into an outdoor gathering place for older adults next to the town's senior center. Metuchen Downtown Alliance will install comfortable slat benches with backs and arms, and mosaic covered concrete table and planters.

"AARP was the earliest and most constant supporters of downtown revitalization in Metuchen," said Eric Berger, Metuchen Downtown Alliance Chairman. "Even more important than the money is association with AARP and their important work to make places livable for people of all ages."

Town of Belvidere
The grant will be used to add an artistic bike lane, two bike racks, one bike repair station, and five stationary benches along a main road frequented by older adults. The bike lane will dually act as a traffic calming device to keep the community safe.

"On behalf of the Mayor and Town Council, we are surprised by, and immensely grateful to AARP for their generous grant which will help enrich the lives and wellbeing of our residents, most especially our older citizens," said Council Representative, Joseph Roth.

Township of Belleville
The grant will be used to promote walkability, restore neighborhood connectivity, and increase community relationships as the town heals together from the COVID-19 pandemic. The project will use an underutilized property to create a new walking trail and adjacent gardens. These will include Memorial Gardens dedicated to residents lost to COVID-19, along with a community garden, which will grow fresh fruits and vegetables that residents will be invited to pick and take home. The trail will connect a dead-end street to a wide range of public facilities.

"Belleville is extremely grateful to receive this grant from AARP, as it will help us on our continued mission to create a healthier and happier community and a greener and cleaner town," said Mayor Michael Melham. "The grant will help us transform a small tract on Division Avenue into a memory garden and a healthy food garden with a corresponding walking trail. We envision this as a space with fresh fruit and vegetables ripe for picking, and a space where seniors in particular can utilize to stroll, stop and chat or, quite literally, stop and smell the flowers."

The Community Challenge is part of AARP's nationwide work on livable communities, which supports the efforts of neighborhoods, towns, cities and counties across the country to become great places for all residents. We believe that communities should provide safe, walkable streets; affordable and accessible housing and transportation options; access to needed services; and opportunities for residents to participate in community life.

To learn more about the work being funded by the AARP Community Challenge both here in New Jersey as well as across the nation, visit aarp.org/CommunityChallenge. You can also view an interactive map of all of the Community Challenge projects and AARP New Jersey's livable communities work at aarp.org/livable.


###
AARP New Jersey Accepting 2022 Community Challenge Grant Applications
NEW BRUNSWICK, NJ (Jan. 25, 2022) – AARP New Jersey invites local organizations and governments across the state to apply for the 2022 AARP Community Challenge grant program, now through March 22, 2022. Grants fund quick-action projects that help communities become more livable in the long-term by improving public spaces, transportation, housing, civic engagement, coronavirus recovery, diversity and inclusion, and more. Now in its sixth year, the grant program is part of AARP's nationwide Livable Communities initiative, which supports the efforts of cities, towns, neighborhoods and rural areas to become great places to live.

"AARP New Jersey is excited to kick-off the Community Challenge again in 2022 to continue helping communities across New Jersey become great places for people of all backgrounds, abilities and ages, especially people 50-plus," said Stephanie Hunsinger, AARP New Jersey State Director. "The program has proven that quick-action projects can lead to long-lasting improvements right where New Jerseyans live."

AARP will prioritize proposals that are inclusive, address disparities, directly engage volunteers, support residents age 50 and older and aim to achieve one or more of the following outcomes:

Support Communities' efforts to build engagement and leverage funding available under new federal programs through laws like the American Rescue Plan Act, the Infrastructure Investment and Jobs Act, and more.
Create vibrant public places that improve open spaces, parks and access to other amenities.
Deliver a range of transportation and mobility options that increase connectivity, walkability, bikeability, wayfinding, access to transportation options and roadway improvements.
Support a range of housing options that increases the availability of accessible and affordable choices.
Ensure a focus on diversity, equity and inclusion while improving the built and social environment of a community.
Increase civic engagement with innovative and tangible projects that bring residents and local leaders together to address challenges and facilitate a greater sense of inclusion.
Other community improvements; including health services, community development, and coronavirus pandemic recovery.

Since 2017, AARP has awarded over 800 grants through the Community Challenge to nonprofit organizations and government entities in all 50 states, the District of Columbia, Puerto Rico and the U.S. Virgin Islands. The program provides direct support to all community types, including rural, suburban and urban communities. Previous projects have enabled long-term progress by garnering additional support from public and private funders, encouraging similar improvements throughout the community, advancing local policy, and generating engagement among residents and local leaders to advocate for change.
The Community Challenge is open to 501(c)(3), 501(c)(4) and 501(c)(6) nonprofits and government entities. Other types of organizations are considered on a case-by-case basis. Grants can range from several hundred dollars for small, short-term activities to tens of thousands for larger projects.

The application deadline is 5:00 p.m. ET, March 22, 2022. All projects must be completed by November 30, 2022. To submit an application and view past grantees, visit www.AARP.org/CommunityChallenge.


###
About AARP New Jersey
AARP is the nation's largest nonprofit, nonpartisan organization dedicated to empowering people 50 and older to choose how they live as they age. AARP New Jersey educates and advocates on behalf of those 50 and older on issues that are important to them, their families and to all Garden State residents. The organization works to strengthen New Jersey communities with a focus on health security, financial stability and personal fulfillment. To learn more, visit www.aarp.org/nj or follow @AARPNJ on social media.