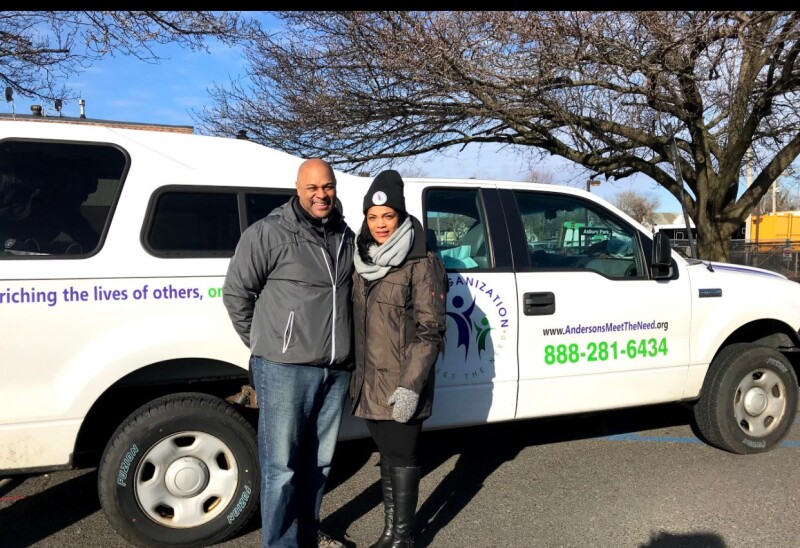 AARP New Jersey Presents 2020 Andrus Award for Community Service
Recognizes Yvette and Reggie Anderson of MTN Organization Inc. for Their Contributions to New Jersey Communities
NEW BRUNSWICK, N.J. (Sept. 23, 2020) – AARP New Jersey is pleased to present Yvette and Reggie Anderson today with the 2020 AARP New Jersey Andrus Award for Community Service, which is AARP's most prestigious and visible volunteer award. Watch the presentation here.
​​​​​​​​​​​​​​​​​​​​​​​​​​​
The AARP Andrus Award for Community Service is an annual awards program developed to honor individuals whose service is a unique and valuable contribution to society. It recognizes individuals who are sharing their experience, talent and skills to enrich their communities in ways that are consistent with AARP's purpose, vision, and commitment to volunteer service, and that inspire others to volunteer. Only one volunteer per state (or couple performing service together) can receive the award.

"AARP's commitment to volunteer service can be traced back to our founder, Dr. Ethel Percy Andrus, whose motto 'to serve, not to be served' has shaped our community service efforts at the national, state, and local levels," said Stephanie Hunsinger, AARP New Jersey State Director. "Yvette and Reggie Anderson exemplify this motto, and we could not be more honored to recognize two of New Jersey's most dedicated and inspiring volunteers who are serving our communities."

The Andersons are the founders of MTN Organization, Inc., which stands for "Meet the Need," and is a New Jersey non-profit that promotes and encourages others to be actively involved in making a difference. They serve New Jersey communities to the best of their ability, regardless of age, race, gender, religion and ethnicity.

With the help of their volunteers, the Andersons safely deliver food to those who need it most, deliver care packages to those experiencing homelessness, provide backpacks to underprivileged school districts and shelters, give families all the necessities for a Thanksgiving meal, provide care packages to those in nursing homes and VA hospitals, and much more.

"Our greatest joy comes from knowing we are being used to uplift, encourage and bring solace to so many," said Yvette Anderson. "And especially in uncertain times like these. Having our work acknowledged at this level means so much to us."

"Winning this year's 2020 AARP New Jersey Andrus Award is such an honor and a privilege," said Reggie Anderson. "We can't thank AARP enough for such memorable and amazing opportunity."

You can read more about AARP's Andrus Award here.


###
About AARP New Jersey
AARP is the nation's largest nonprofit, nonpartisan organization dedicated to empowering people 50 and older to choose how they live as they age. AARP New Jersey educates and advocates on behalf of those 50 and older on issues that are important to them, their families and to all Garden State residents. The organization works to strengthen New Jersey communities with a focus on health security, financial stability and personal fulfillment. To learn more, visit www.aarp.org/nj or follow @AARPNJ on social media.