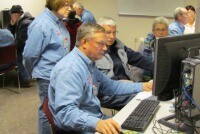 Many of you have had rewarding careers in which you've gained excellent experience – experience that can be valuable to others. If you are still working full-time or part-time, the skills you have can also be of value outside of your workplace.

We invite you to bring those talents and your knowledge to our organization and become an active AARP volunteer. Together, we can make a difference!

AARP is a diverse community of members with a collective strength to drive positive social change. We offer you the power to make a difference with your skills and talents. You can take advantage of new opportunities, meet new people and have fun. Become part of a movement that will improve our state and nation for generations to come.

Let us know if you would like to be involved in things such as community activities (booths, events, etc.), presentations for small groups, legislative activities, Driver Safety instructing, assisting with the Tax-Aide program, representing AARP at partnership meetings, writing letters to the editor, or even assisting at the AARP office.

You can determine how much time you're willing to commit either on a short-term or ongoing basis. And don't worry, we'll provide you with the materials, support and training you may need.

If you're interested and want to explore new volunteer opportunities with AARP, please contact Doreen Riedman at driedman@aarp.org or by calling 701-355-3643.