The excitement was evident in Philadelphia recently as AARP PA hosted a free screening of the highly anticipated Disney-Marvel film, " Black Panther."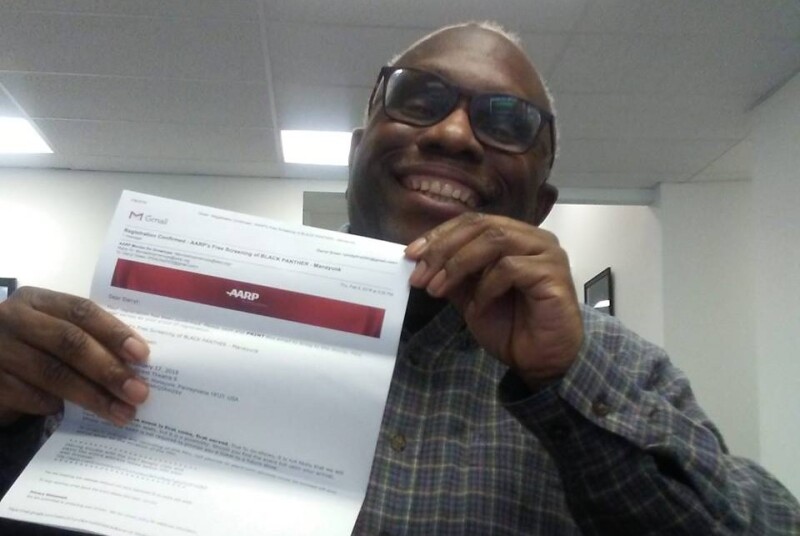 "Run, don't walk," said Darryl Green (pictured), excited to participate in the AARP Movies for Grownups outing celebrating Black History Month. "See you there in a Dashiki!"

AARP PA staff and volunteers connected with more than 100 invited movie-goers to view Hollywood's first cinematic production with a predominantly all-black, superhero cast.

"It's awesome and very well done," said Marge Chance, AARP Lead Volunteer for West Philadelphia. "It depicts black people as regal like we are."

Heralded as a watershed moment for African-Americans, and people of African descent, the must-see movie features T'Challa, the Black Panther – a righteous king and fearsome warrior.

"Deep down we all hoped that people would come to see a film about a fictional country on the continent of Africa, made up of a cast of people of African descent," said Black Panther's director, Ryan Coogler, describing the film's central theme as responsibility and identity.

"It's a movie that you can take your grandchildren to see. Families can take their children to see it and enjoy it together," said Chance. "I have to see it again!"

Engaging communities from Philadelphia to Pittsburgh, last month AARP PA partnered with the Black Ministers Association of York to sponsor the organization's MLK Image Awards & Scholarship Luncheon, " If not now, then when?"

More than 150 guests joined State Representative Carol Hill-Evans and York Mayor Michael Helfrich at the "wonderful event." The fifth installment of the annual gathering, the event honored distinguished civil servants and community leaders of York County. York native Shavonnia Corbin-Johnson said it was "a beautiful way to end the Day of Service."

In Pittsburgh, AARP PA joined North Hills Anti-Racism Coalition and guests at the 18th Annual Martin Luther King, Jr. Unity Breakfast. Held on the campus of La Roche College, the North Hills Unity Breakfast Committee presented the 2018 Spirit of Unity Award to a local resident for embodying the spirit of the civil rights leader and humanitarian.

In the suburbs of Philadelphia with the YMCA of Eastern Delaware County, AARP PA hosted a breakfast to honor local leaders and commemorate MLK Day of Service before transitioning to celebrate Black History Month.

Deeply committed to African American life, culture and history, earlier this month several AARP PA volunteers and staff joined more than 3,500 people at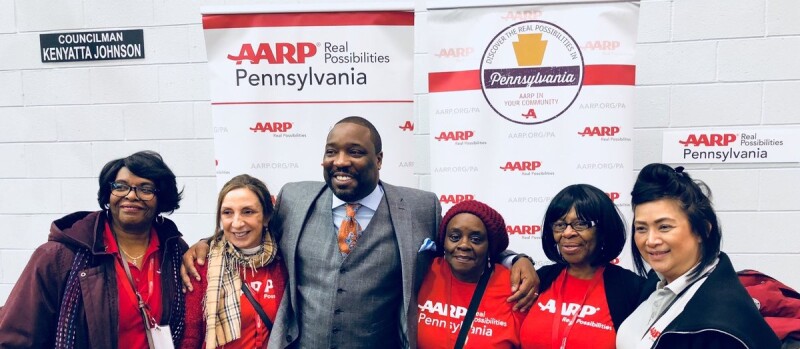 the African American Children's Book Fair. The 26th edition of the annual event was held on the main campus of the Community College of Philadelphia.

"I have never seen that many books with so many brown faces in my life," said Chance, who distributed AARP materials while interacting with the intergenerational audience. Supported by Philadelphia City Council members Kenyatta Johnson, Blondell Reynold Brown, Jannie Blackwell and Vice Chair of the Council's Aging Committee, Derek Green, Chance said AARP PA's involvement with the fair was a "tremendous success" that highlighted the "value of education."

Highlighting a longtime partnership with an organization of educated women, Chance was also impressed with the hundreds of guests attending the Omega Omega Chapter of Alpha Kappa Alpha Sorority's annual luncheon and fashion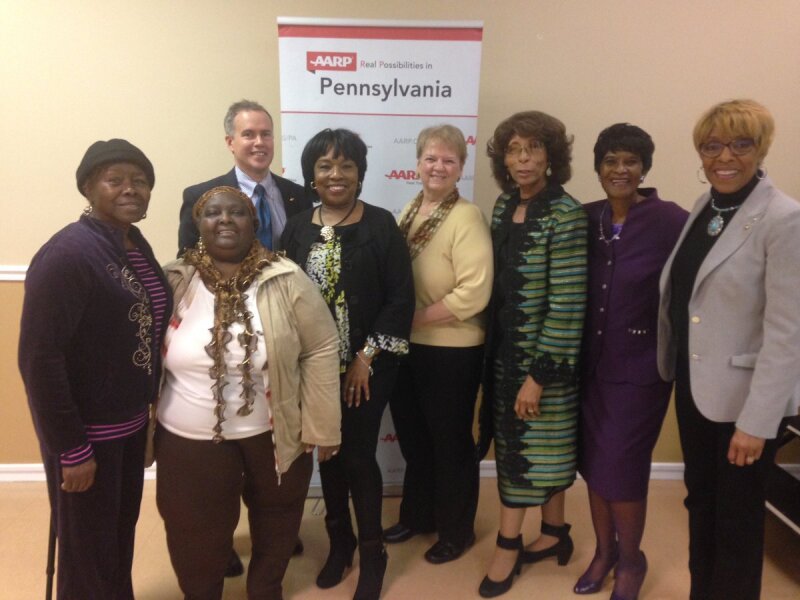 show, " A Legacy of Love, Passion, and Style."

"The affair was well attended and provided us a unique opportunity to connect with so many women of influence," said Chance, who spoke about aging stereotypes (Disrupt Aging) and AARP's Livable Communities campaign.

"AARP keeps us in the loop with what's going on in the seasoned citizens' community," said Carol Parkinson-Hall, President of Omega Omega. With sorority members "well into their 90s," Parkinson-Hall said AARP's "information and resources are very beneficial to our membership."

Hosting hundreds of seniors at the 6th Annual Senior Sweetheart Dance on Valentine's Day, AARP PA partnered with State Representative Jordan A. Harris to present a "greatly appreciated" dinner and dance for the community.

"The Senior Sweetheart Dance is an opportunity to take time out to pamper, honor and celebrate our seniors in a special way on Valentine's Day," said Harris. AARP PA provided educational material as guests line danced, participated in contests for prizes, and enjoyed healthy food at South Philly's Yesha Fellowship Hall.

AARP PA proudly interacts with African Americans, and communities of color, particularly through strategic partnerships with community-based organizations.

"AARP is all about giving back to the community and improving the quality of life for all of us as we age," said AARP Pennsylvania State President, Joanne Grossi.

Join AARP PA at a host of upcoming events in March including the AARP Smart DriverTEK, AARP Block Party at the 2018 Philadelphia Flower Show, and AARP Careversations to name a few. Visit us online and become a member.