John Fetterman (D) and Mehmet Oz (R) are neck and neck in Pennsylvania's U.S. Senate race, while Josh Shapiro (D) is leading Doug Mastriano (R) by 11 percentage points in the governor's race, according to a new AARP survey of likely voters in the state.

Three weeks before Election Day, Fetterman leads Oz 48 percent to 46 percent in the race to succeed U.S. Sen. Pat Toomey (R), who is not seeking reelection. The 2-point lead is within the poll's margin of error.

Shapiro is polling ahead of Mastriano at 53 percent to 42 percent in the race to replace current Gov. Tom Wolf (D), who has reached his term limit.

Enthusiasm to vote is highest among respondents age 50-plus, demonstrating that older voters will play a key role in the outcome of the election. Eighty-five percent of likely voters 50-plus said they were extremely motivated to vote, compared to 68 percent of voters ages 18 to 49, the poll found.

More than 1,300 likely Pennsylvania voters participated in the survey, conducted by bipartisan polling team Fabrizio Ward & Impact Research in early October.

Four other takeaways from the poll:

1. Respondents age 50-plus are most worried about inflation.
When asked what issues were most important, likely voters age 50-plus cited inflation as their top concern when deciding their votes for governor and the U.S. Senate.

The rising cost of food is most worrisome for older respondents, followed by health care and prescription drugs, gas, utilities and housing prices.

Respondents 50-plus also are considering Social Security/Medicare, abortion and guns when they cast their ballot for the U.S. Senate race, the poll found. Abortion, jobs and the economy, and honesty in government also are top of mind for older respondents in the governor's race.


2. Nearly two-thirds of respondents are worried about their financial situation.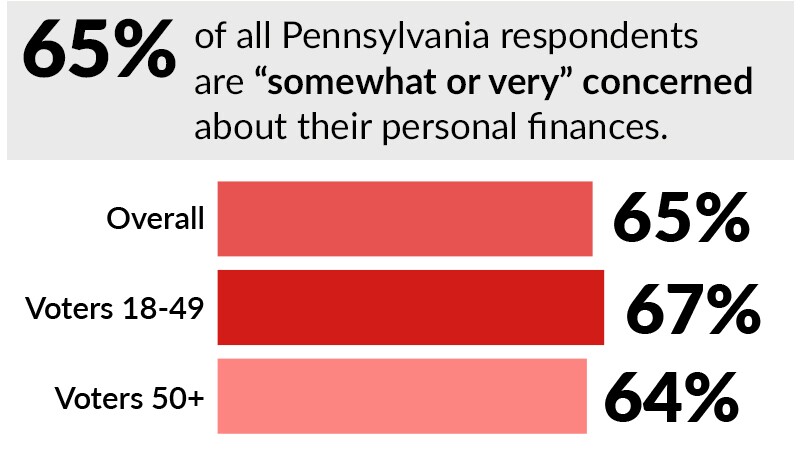 Sixty-five percent of all respondents said they were "somewhat or very" concerned about their personal finances. That sentiment crosses party lines — 77 percent of Republicans, 65 percent of independents and 54 percent of Democrats surveyed agreed with it.

Respondents age 50-plus are slightly less worried about their personal finances than are those 18 to 49, 64 percent versus 67 percent. But women 50-plus are more concerned than men in that age group, at 67 percent compared to 61 percent.


3. Most respondents feel ignored by members of Congress.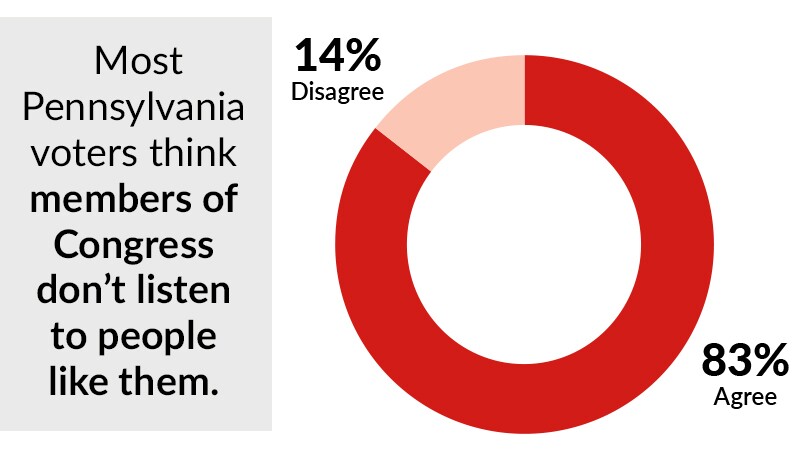 Eighty-three percent of likely voters agreed with the statement that "members of Congress don't listen to people like me," the poll found.

They're also pessimistic about the future of both Pennsylvania and the country. Seventy-five percent said the country is heading in the wrong direction, and 63 percent felt the same way about the state.


4. Nearly 1 in 4 respondents will vote by mail in the general election.
Twenty-two percent of likely voters plan to cast a mail or absentee ballot in November's general election, and 67 percent say they will vote in person on Election Day. Although Pennsylvania does not have a formal early in-person voting program, 8 percent plan to vote early by completing an absentee ballot at an elections office.

In 2020, about 38 percent of registered voters cast a mail or absentee ballot, while nearly 61 percent voted in person on Election Day, according to the Pennsylvania Department of State.

No-excuse mail voting was signed into law in 2019 but has faced court challenges.The Pennsylvania Supreme Court upheld the law in August.


Also of Interest: