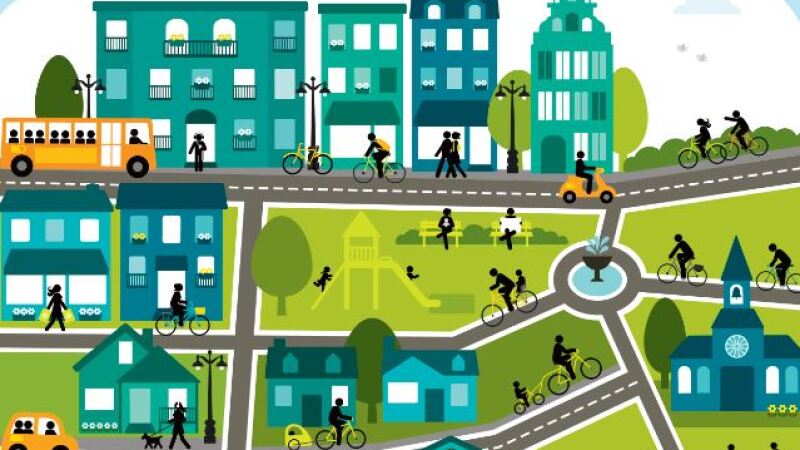 Chiquita Smith, 68, of Philadelphia, loves to work up a sweat to soul music as she leads line dancing classes twice a week, inside the Martin Luther King Jr. Older Adult Center.

As much as she loves indoor fitness classes, she's excited about a new AARP-sponsored outdoor fitness park, opening just across the street later this year.

The low-income North Philadelphia neighborhood is mostly filled with small urban row houses and tight spaces. But the new exercise facility on the corner of North 21st Street and Cecil B. Moore Avenue will transform a former tennis court at the Martin Luther King Jr. Recreation Center into a vibrant local gathering place.

People of all ages and abilities will be able to come together to use the stepper, elliptical, pull-up bars and other equipment at 22 stations in a circular park, shaded by a canopy.

AARP also will pay for instructors to lead outdoor fitness classes for the next three years.

The venture is part of AARP's 60th-anniversary commemoration, which it's celebrating by constructing fitness parks in every state, as well as Washington, D.C.; Puerto Rico; and the U.S. Virgin Islands.

AARP is collaborating with FitLot, a New Orleans–based nonprofit, to create the parks.

There will be resistance bands on hooks, and the resistance on equipment may be adjusted, making it suitable for novices to serious athletes. The parks are also wheelchair accessible.

Like a gym without walls

AARP Pennsylvania worked with Philadelphia city officials to find an ideal location.

The neighborhood "is a perfect place for us to invest," said Yocasta Lora, AARP Pennsylvania's advocacy and outreach director, adding that she believes it will spur other businesses to invest nearby.

In addition, the city will add a new picnic area and a grove of trees to provide shade.

The free facility and fitness classes will benefit those who might not be able to afford a health club membership but want to exercise, Lora said. The parks are like a gym without the walls.

"Space is so limited in North Philadelphia," said Aparna Palantino, a deputy commissioner at the Philadelphia Parks & Recreation Department.

"Older adults don't always have a lot of opportunities to be outdoors in a dense urban environment. There are many studies that show the benefits of being outside and being in nature," Palantino said.

The hope is that the outdoor fitness park will encourage older adults to get out and meet their neighbors, especially other generations in the community.

A place that is welcoming to residents of all ages is the hallmark of AARP's Livable Communities initiative, which helps people age in place by improving affordable housing, transportation and access to green spaces.

And now, for this neighborhood, a new workout venue.

"The park will help bring back vibrancy to this North Philadelphia community," Lora said.

Meanwhile, Smith said she's looking forward to the new workout venue. "It sounds great to go outside and exercise on a nice day."

To learn more about the AARP fitness park project, visit aarp.org/livable or fitlot.org/aarp.

Cristina Rouvalis is a writer living in Pittsburgh.

For More on Livable Communities:
What Is a Livable Community?