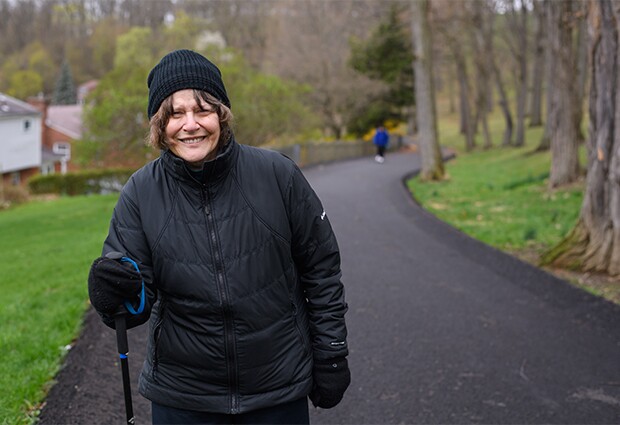 By Cristina Rouvalis

When Pittsburgh resident Joyce Bushmen set out for the scenic trails of Frick Park on a sunny day last August, it wasn't a typical walk in the woods.

City Councilman Corey O'Connor led Bushmen and other older residents through the park, stopping to chat about their surroundings, affordable housing, potholes and other issues.

Bushmen, 73, enjoyed the twist on her usual exercise routine.

"At our stage of the game, you need to do what you can without pushing it too hard and hurting yourself," she said. "I think we are all in the same boat—wanting to do things outdoors but needing a little push to do them."

The program, Fit with a Legislator, is cosponsored by the Jewish Healthcare Foundation (JHF) and AARP Pennsylvania.

After two successful outings last summer, the organizations plan to offer more walks this year.

The excursions combine exercise with civic engagement, helping to create a livable community, said Jennifer Blatz, AARP associate state director for community outreach and advocacy for Western Pennsylvania.

The events are free, but they fill up quickly because each outing is limited to about 30 people.

Training park ambassadors

While the conversation between elected officials and walkers is informal and free-flowing, each walk follows a planned course.

To make sure they are doable for people of all fitness levels, the JHF partnered with Venture Outdoors, a local nonprofit that plans trips for all ages. It selects routes without steep hills or muddy surfaces, to reduce the risk of falling.

"We are really thinking about people who may have been active at some point but lost that confidence," said Ian Brown, Venture Outdoors' program director.

The JHF has also provided funding for the nonprofit to develop a walking app that shows generally flat routes tailored to older people, families and those with limited mobility.

This year, the program plans to include bike rides, too. A 5-mile trail ride with Allegheny County Executive Rich Fitzgerald generated interest last year, but it was canceled because of rain.

This year's outings may include strolls through neighborhoods in addition to parks.

To raise awareness about outdoor exercise and recreation opportunities for older people, the same joint initiative recruits older volunteers to serve as park ambassadors.

Bushmen attended a training session for these volunteers in South Park last summer, and another one is planned for this year.

The hope is that the park ambassadors will spread the word about the advantages of being active outdoors.

They learn to set the ideal pace for groups of walkers and discuss the importance of water and proper footwear.

The program also aims to spread the enthusiasm of people like Bushmen. The retired grant administrator has made exercise a priority, especially after suffering a minor stroke two years ago.

She takes a 2- to 3-mile walk around her neighborhood three times a week and rides her bike on city trails.

"When you move around, it is like a pickup," she said. "I feel better in the fresh air."

For more information, visit ventureoutdoors.org, call 412-255-0564 or email jblatz@aarp.org.

Cristina Rouvalis is a writer living in Pittsburgh.