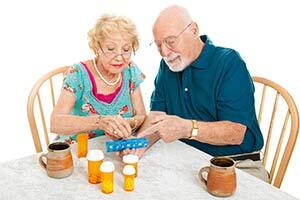 With a new AARP study showing retail prescription prices have increased six times faster than the general inflation rate since 2006, AARP Pennsylvania is reminding older residents that they can receive help paying for prescription medications from the state's PACE and PACENET programs.

According to a report released earlier this month by the AARP Public Policy Institute (PPI), the average annual cost of therapy for one prescription drug totals more than $11,000, which equals a startling 75% of the average annual Social Security benefit.

"As drug prices continue to escalate, so do monthly premiums and out-of-pocket costs at the pharmacy counter," said AARP Pennsylvania State Director Bill Johnston-Walsh. "These trends mean a growing number of older Pennsylvanians will need help affording their medications."

Highlights of the Report
Based on the retail prices of 227 brand name, 115 specialty, and 280 generic prescription drugs in 2013:
• Average annual increase in retail prices for widely-used prescription drugs was 9.4%, compared with a general inflation rate of 1.5%.
• Average annual cost of therapy for one prescription drug: $11,341.
• Average annual increase for brand name drugs: 12.9%.
• Average annual increase for specialty drugs: 10.6%.
• Average annual decrease for generic drugs: 4%.

"Unfortunately, it's becoming clear that we can no longer rely on decreases in generic drug prices to offset unrelenting price increases for brand name and specialty drugs," said Leigh Purvis, MPA, AARP PPI Director of Health Services Research and co-author of the new report. "This shift has serious implications for older adults and the entire health care system."

PACE and PACENET Help Older Pennsylvanians Save Money on Prescription Drugs

Johnston-Walsh said Pennsylvania's successful PACE and PACENET programs offer comprehensive prescription coverage to older state residents. The programs are funded by proceeds from Pennsylvania Lottery ticket sales and administered by the state Department of Aging.

Prescription assistance available through PACE and PACENET is significant. PACE enrollees pay $6 for each generic and $9 for each brand name prescription drug (based on a 30 day supply). In PACENET, clients pay $8 for each generic and $15 for each brand name prescription.

To be eligible for PACE or PACENET, state residents must be at least 65, cannot have prescription coverage through Medicaid, and must meet income requirements. For PACE, a single person cannot have countable income of more than $14,500. For a married couple, the combined income limit is $17,700. For PACENET, the income limit is between $14,500-$23,500 for a single person and $17,700-$31,500 for couples.

Individuals can enroll in PACE or PACENET while receiving benefits from another insurer, like a employer or retiree plan, VA or Medicare Advantage program. PACE and PACENET also wrap around Medicare Part D prescription coverage to help many older Pennsylvanians save even more money.

"Pennsylvania's PACE and PACENET programs are national models that currently help more than 300,000 residents save money on the critical medications they need," said Johnston-Walsh.
"Older adults are particularly vulnerable to soaring drug prices, and I encourage seniors to apply for these prescription assistance programs that are funded through the Pennsylvania Lottery."

For more information on Pennsylvania's PACE and PACENET programs, call 1-800-225-7223.