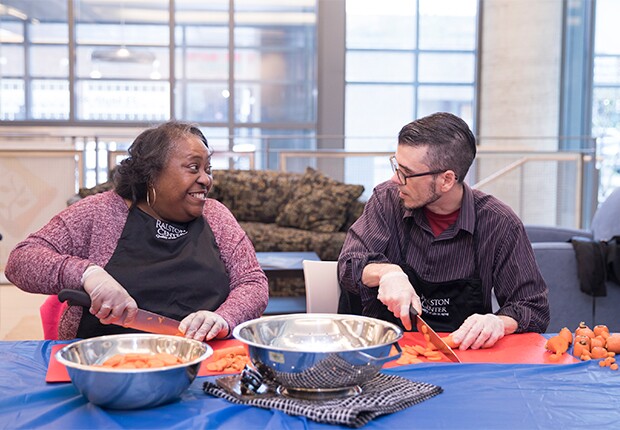 By Hilary Appelman

Every other Wednesday, Sandra Fair shows up at a community center in West Philadelphia to wash and chop vegetables to make soup. The recipes vary—minestrone, vegetarian chili, and kale and chickpea stew are favorites—but the camaraderie and mission are the same.

The soup is distributed to hundreds of older residents, promoting both nutrition and a sense of community.

Fair, 65, a former machine operator and concessions manager, said her participation in the Food & Company soup project, organized by the nonprofit Ralston Center, is "good for the soul."

"As long as they keep doing it, I'll do it," she said.

The soup project is one of several initiatives aimed at older residents in Philadelphia, a member of the AARP Network of Age-Friendly Communities. Nationwide, more than 160 localities belong to the network, including Pittsburgh, Allegheny County and West Chester in Pennsylvania.

It's affiliated with the World Health Organization's Global Network for Age-friendly Cities and Communities. Member communities commit to supporting services, programs and amenities that contribute to the health and well-being of older residents.

Lydia Hernández Vélez, Philadelphia's deputy managing director for aging, has been working with AARP and nonprofit partners to draft Philadelphia's action plan, part of the process in achieving the designation.

"If you're going to be a city that is inclusive, you really need to talk about everybody," she said. "The age-friendly process is a disciplined, deliberate way to do that."

An important piece of the age-friendly initiative is making people aware of resources that already exist but that they may not know about or know how to access, Hernández Vélez said.

About 12 percent of Philadelphia's population is 65 or older, one of the highest proportions among large U.S. cities. Statewide, about 15 percent of the population, or almost 2 million people, are 65 and older.

The city's plan focuses on:

Housing: Finding ways to make housing more affordable and accessible to residents who want to stay in their homes and neighborhoods as they age. That includes encouraging development of more accessible housing in all areas of the city.

Civic and Social Engagement: Working to keep older Philadelphians connected by making communal spaces such as parks more accessible and identifying volunteer opportunities in schools and elsewhere.

Transportation: Supporting the city's Complete Streets and Vision Zero initiatives to make roads and sidewalks safer, and creating a transportation resource guide.

Safety measures help all
Kelley Yemen, the city's first director of Complete Streets, said the Vision Zero initiative aims to eliminate traffic-related deaths.

"A lot of our discussions around Vision Zero are about designing streets that are safe for both the very young and the old," Yemen said. Making it easier for someone using a walker or a wheelchair to cross the street also makes it easier for a parent with a toddler or someone using crutches, she said.

Yemen said the city is considering measures such as lengthening crossing signal times, creating pedestrian plazas with public seating, and constructing medians or curb extensions to shorten crossing distances.

"If we make it safe for both ends of the age spectrum, then we've made it safe for everyone in between," she said.

For more information, go to aarp.org/agefriendly.

Hilary Appelman is a writer living in State College.