The 2019 Vision Zero Legislative Breakfast was held on January 31 to present state and city legislative opportunities to make Philadelphia streets safer in 2019. Hosted by AARP Pennsylvania, the Bicycle Coalition of Greater Philadelphia, and Families for Safe Streets Greater Philadelphia, the event was well attended by state and city representatives, business leaders and advocates.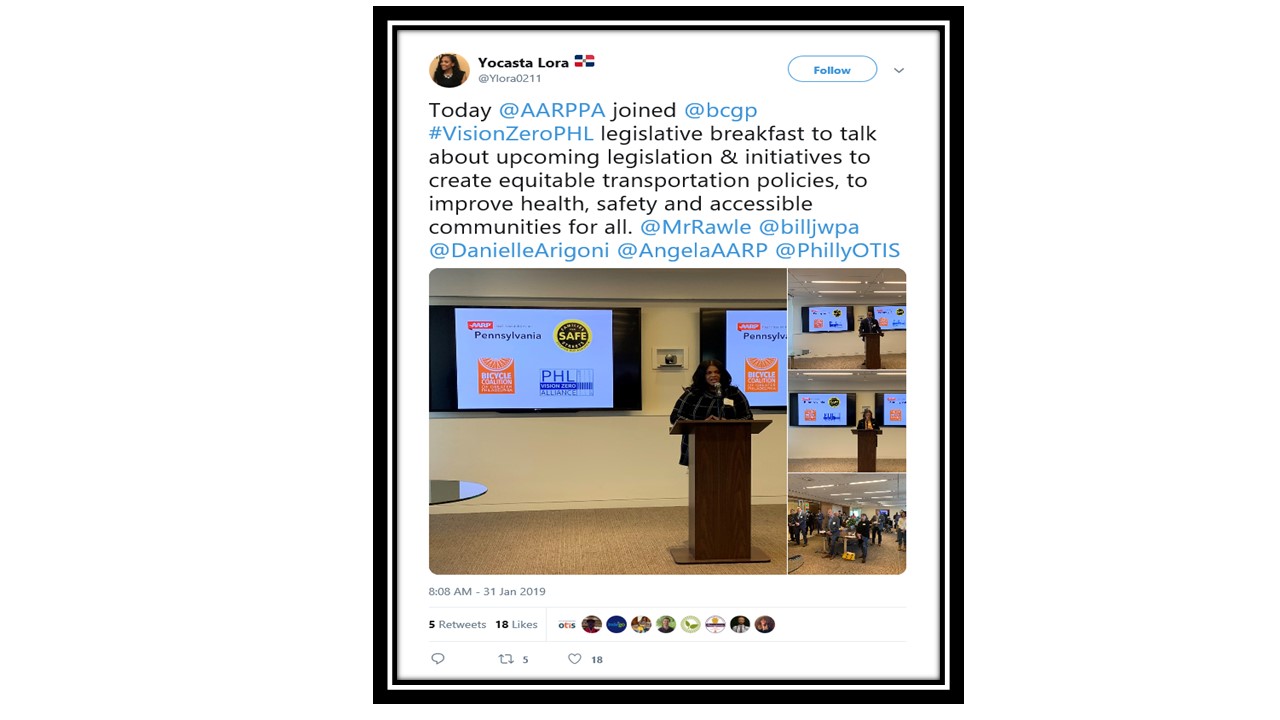 The event featured several speakers, including State Rep. Mary Jo Daley (Pa-148), West Chester Police Chief Scott Brohn, AARP Pennsylvania's Manager of Outreach and Operations Angela Foreshaw-Rouse, Philadelphia Deputy Managing Director Michael Carroll, Paul Davis of Representative Brett Miller's (Pa-41) office, a video message from State Sen. Larry Farnese (D-Phila), and Delaware Valley Smart Growth Alliance's Jason Duckworth.

As discussed at the event, the Vision Zero Alliance will work on several issues including and enhancement in protections for vulnerable road users, legislation which would make it easier to install protected bike lanes on state roads, prohibiting hand held cell phones for drivers, and allowing local law enforcement to use radar technology for speed enforcement.

Speakers highlighted legislative opportunities at the city level, which could include mandated side guards throughout the city, and the creation of a civilian enforcement unit in Philadelphia to help cut down on congestion and make streets safer.

In March, stakeholders will gather at the 2019 Vision Zero Conference, sponsored by AARP Pennsylvania, Lyft and others to discuss street safety in Philadelphia. Learn more about the 2019 Vision Zero Conference and how we can work together to make Philadelphia a more livable community for all.