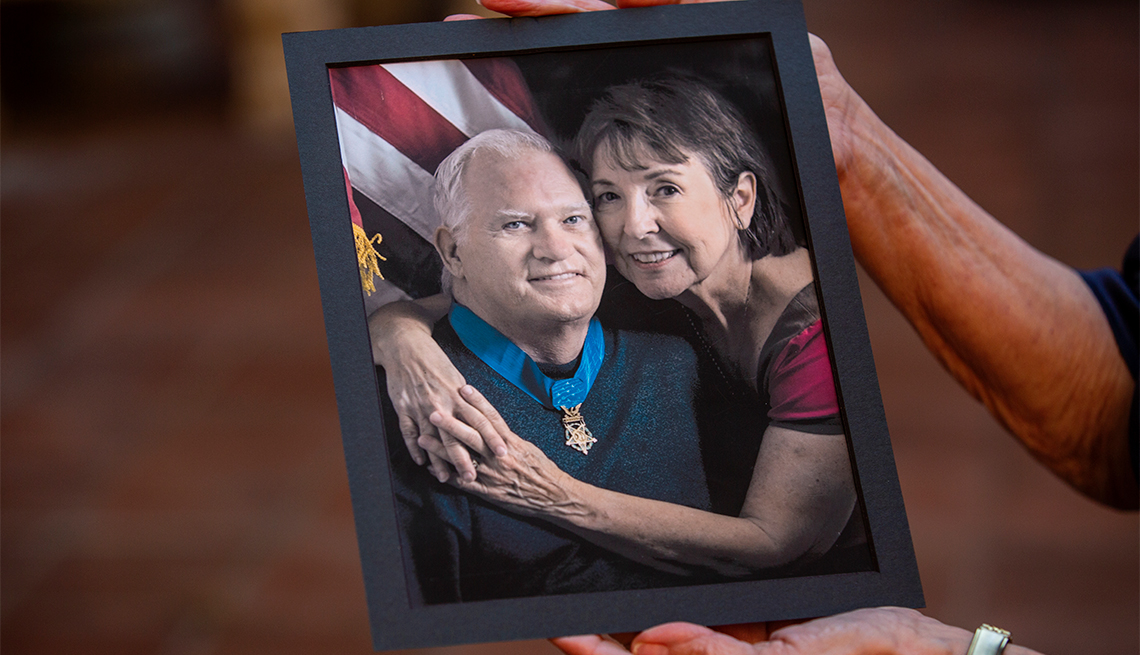 Donnell Baker, 79, understands the need for family to stay close when a loved one is admitted to a veterans hospital. Thirteen years ago, her now-late husband, Army veteran and Medal of Honor recipient John F. Baker Jr., needed a medical procedure in Charleston. When he developed complications, she had to stay overnight at a hotel.

"The one-night stay turned into 30 days," she recalls. "The bill was over $3,000."

Many veterans' families face similar hardship. Now, help is on the way, with construction of a Fisher House—a Ronald McDonald House–type facility to shelter family members who travel with veterans receiving care at the William Jennings Bryan Dorn VA Medical Center, in Columbia.

"So many of our veterans have to drive at least 50 miles to Dorn," says Baker, who serves as president of Friends of Fisher House Columbia. "This will be walking distance. People recover better with loved ones nearby."

"We're excited to announce that the Fisher House Foundation and the Columbia VA Health Care System are officially moving forward with placing the state's second Fisher House on the campus of the William Jennings Bryan Dorn VA Medical Center in the state's capital of Columbia," says Director/CEO of the Columbia VA HCS David Omura. "Providing care to nearly 87,000 Veterans annually across 36 counties, our veterans and their families will benefit from the free lodging made available in this new home away from home."

The Columbia Fisher House will primarily benefit veteran and military families living outside the Columbia area making it a perfect fit for the William Jennings Bryan Dorn VA Medical Center where so many of the state's veterans receive care.

Johnson VA Medical Center in Charleston opened a Fisher House in January 2018, and a facility in the Midlands is needed, says retired Army Maj. Gen. Will Grimsley, department secretary.

"Our service members and veterans deserve to have their families close by when receiving treatment in VA hospitals," Grimsley says. "We've seen the tremendous impact made by providing no-cost lodging and peace of mind to families caring for their loved ones."

About 180,000 of the 400,000 veterans in South Carolina are over 65, according to the state Department of Veterans Affairs.

Helping Raise Funds

Since 1990, the national Fisher House Foundation has built 91 facilities in the U.S., United Kingdom and Germany, serving 413,000 families. Each house has up to 21 suites, plus shared kitchens and living areas. Local charities and volunteers help with supplies, meals and babysitting.

The foundation provides half of construction expenses; local communities raise the rest of the funds. The U.S. departments of Defense and Veterans Affairs take over the houses once they're completed. The Columbia project will cost an estimated $6.5 million; so far, about $1 million has been raised toward the more than $3 million local share.

Jared Evans, 36, of Irmo, a Marine veteran and member of the Friends of Fisher House Columbia board, has organized 5K runs to raise funds for the project since 2018.

"We were making great progress, then the pandemic hit," he says. COVID-19 concerns delayed the groundbreaking ceremony, and the 2020 5K was virtual.

As the house goes up this year, the board hopes to accelerate corporate fundraising and increase awareness, Evans says. "A lot of people still don't know what a Fisher House is."

For Teresa Arnold, retired director of AARP South Carolina, supporting Fisher House Columbia honors the memory of her late father, a Korean War veteran who was treated at Dorn and died in 2002.

Her mother could have benefited from a Fisher House. "You're staying with people who are going through similar experiences. There's something therapeutic about that," Arnold says.

A fundraising golf tournament is planned for Monday, April 25. Check aarp.org/sc for updates. Learn more about the project at fisherhousecolumbiasc.org.

Learn more about AARP veteran and military family resources at aarp.org/veterans.

Linda Lamb is a writer living in Columbia.

More on Veterans

About AARP South Carolina