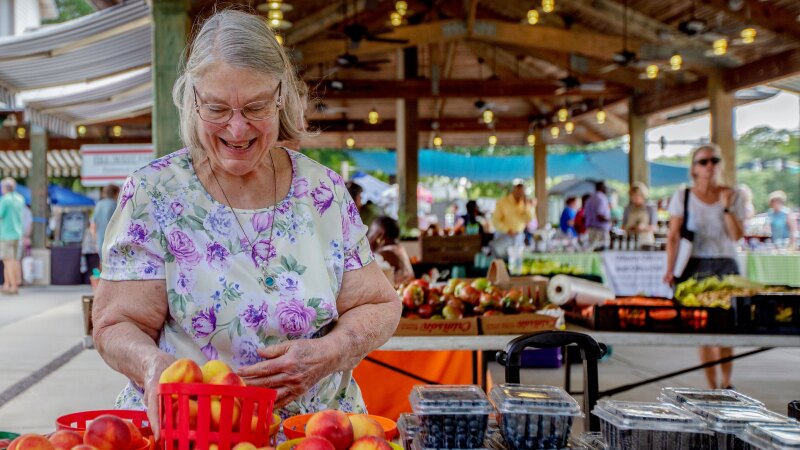 As a registered nurse, Louise Chadwick knew the signs of diabetes: higher than normal blood sugar, extreme fatigue, frequent urination. "So I diagnosed myself," she recalled with a laugh.

But fighting type 2 diabetes is serious business for Chadwick, whose husband died from complications of the disease.

Since 1997 she has used medications, a support group and diet strategies to keep it under control—and she took off 70 pounds.

"I focused on lifestyle changes," says Chadwick, 77, of Mount Pleasant, who kept a food diary and watched portion sizes.

An ambitious initiative called Diabetes Free SC is helping more people tackle the disease like Chadwick did.

The state has the nation's sixth-highest prevalence of diabetes—affecting more than 1 in 4 South Carolinians over age 65.

"The older you get, the more likely you are to have problems with blood sugar," said Timothy Lyons, M.D., an endocrinologist and medical director of Diabetes Free SC.

That's just one reason AARP South Carolina supports the initiative. It also aims to address racial inequities in health care that have long plagued the state.

More Black South Carolinians are affected by diabetes than white residents and are twice as likely to die from complications of the disease.

Diabetes Free SC focuses on type 2 diabetes, the most prevalent kind. The disease involves elevated blood sugar (glucose) levels, which affect people's ability to metabolize food. Over time, diabetes can cause heart, kidney, vision and nerve damage.

'Devastating diagnosis'

Diabetes-related health care costs are a staggering burden: $5.89 billion in 2017, said Teresa Arnold, state director for AARP South Carolina.

Diabetes Free SC was launched in 2020, with funding from BlueCross BlueShield of South Carolina. Its task is as complicated as its title is optimistic.

"This is not something that we can change overnight," said Lyons. He cited three ways people can reduce their risk for diabetes, and some pitfalls:


Maintaining a normal body weight—the adult obesity rate in South Carolina is more than 35 percent.
Following a healthy diet; many people, however, don't have easy access to fresh foods.
Getting enough exercise, but that may be difficult for reasons ranging from unsafe neighborhoods to sore knees.
The Diabetes Free SC project started by targeting three areas: funding centers for pregnant women with diabetes, school-based programs promoting wellness education, and early intervention among high-risk adults.

It also awarded a five-year grant to FoodShare South Carolina, which delivers fresh produce in underserved areas.

"Diabetes is a devastating diagnosis for Black people," said Thaddeus John Bell, M.D., whose North Charleston practice almost exclusively serves African Americans, many with the disease.

On Friday, Aug. 6, at noon, Bell will discuss diabetes in a Facebook Live session on Living Well With Dr. Bell, hosted by AARP's Jo Pauling-Jones.

Join via AARP South Carolina's Facebook page, at facebook.com/aarpsc.

AARP South Carolina will host a live Q & A telephone town hall on Friday, Aug. 20 at 10 a.m. discussing diabetes and chronic disease. Register for the event at https://vekeo.com/aarpsouthcarolina/#. Alternatively, you can call toll-free 1-855-962-1462 at the time of the event to participate or listen to the livestream at facebook.com/aarpsc.

For more on the disease in the state, go to DiabetesFreeSC.org.

Linda Lamb is a writer living in Columbia.

More on Healthy Living

Chef Yan Cooks with Caregivers: Asian Chicken Lettuce Wraps (Family Caregiving Fair ) - AARP
About AARP South Carolina