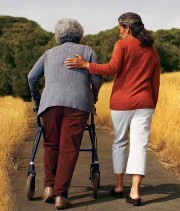 A new AARP report shows that a majority of registered South Carolina voters 45+ are currently or have provided unpaid caregiving services to a family member or loved one. Furthermore, one-half believe that they are extremely or very likely to become a caregiver in the near future.
"Family caregivers play a critical role and help ensure that their family members can remain at home where they tend to be healthier and happier," said Teresa Arnold, AARP South Carolina state director. Arnold was joined at a State House event with Lt. Gov. Glenn F. McConnell, and caregivers Lois DeMarino, and Kathleen Brown.
The report also stated that three out of four respondents felt it is important that the State increase funding for services that allow seniors to live independently in their own homes. "Services such as home health care, personal care, day programs and respite services are vital to be available in all South Carolina communities," she said.
While providing a service, family caregivers are also looking for support, information, and resources. The report showed that 79% are looking for community resources, 77% are needing assistance with household chores, 76% desiring respite care or breaks from caregiving responsibilities, and 73% needing assistance with meals.
"The report showed that education is crucial to family caregiving because there is not a job description or training that provides navigating and discovering available resources," said Arnold. "This can be quite challenging and time consuming for family caregivers."
The 2014 AARP South Carolina Caregiving Survey was conducted through telephone interviews with a sample of 800 registered voters ages 45 and older drawn at random from the state of South Carolina. The interviews were conducted in English by RDD Field Services from February 22nd through March 2, 2014. The combined 800 interviews from the study were weighted by age and gender for South Carolina's registered voters 45+. This report is based on 800 weighted responses. The margin of error for the complete set of 800 interviews is ± 3.5%
About AARP South Carolina