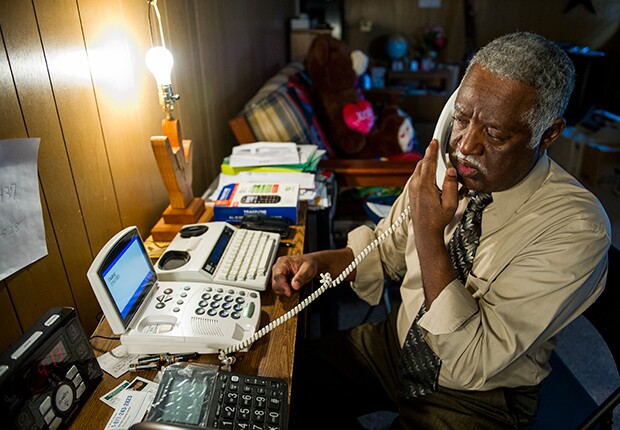 By Holly Fisher

For more than a decade, Columbia resident John Manigo has relied on closed-captioning equipment for his telephone.

Manigo, 63, who wears hearing aids, said he appreciates being able to read what a caller is saying. He can talk to friends or call businesses without having to ask people to repeat themselves. Plus, if a number comes up on his phone that he doesn't know, he can return the call using the closed-captioning system.

Manigo's equipment is cour­tesy of a state-run service that assists residents who have trouble speaking over the phone.

Until now, customers of the South Carolina Equipment Distribution Program had to have a landline telephone. Beginning this year, residents with any type of phone service can qualify, including mobile, Voice over Internet Protocol (VoIP) and prepaid wireless.

The rules for qualifying will remain the same: People who are deaf, hard of hearing, deaf-blind, blind/low vision with hearing loss or speech-impaired can submit an application.

They have to be legal, permanent residents of South Carolina and have a permanent disability confirmed by a medical provider, such as an audiologist, physician, physician's assistant,advanced practice registered nurse, speech-language pathologist or hearing aid specialist.

Participants receive the equipment free and can keep it as long as needed.

Roughly 20,000 South Carolinians had equipment through the program when it was strictly landline-based. That number is expected to grow significantly now that all types of telephone service qualify.

"Once word really does get out there, I think we will have quite a few people apply," said Kari Munn telecommunications relay service manager of the state Office of Regulatory Staff, which administers the program.

Many rely on mobile service
"More people need help communicating over the phone, but because they had dropped their landline, they couldn't get any equipment," Munn said.

The program is funded by South Carolina residents via a monthly fee. Previously, only traditional landline telephone companies charged business and residential phone line customers the fee, 25 cents monthly. Now, all telephone service providers will charge customers 6 cents per month on all service lines.

Almost half of U.S. homes had only cellphones in 2016, according to the federal Centers for Disease Control and Prevention.

More than 43 percent of people ages 45 to 64, and 21 percent of those 65 and older, rely on just mobile phones for this type of communication.

Under the state program, the equipment list includes more than a dozen available products, such as wired and cordless amplified phones, captioned telephones, large-number phones and text-based telephones.

Participants also can select an alerting device to let them know that the phone or doorbell is ringing.

AARP South Carolina, a proponent of the program, is sharing news of its expansion.

"This program is a wonderful way for hearing- or vision-impaired seniors to connect with their friends and loved ones and the community and to live life to the fullest," said Coretta Bedsole, AARP South Carolina associate state director for advocacy.

Manigo currently has a cellphone, but he uses it mostly when calling family members. He's looking forward to using it more if options like closed-captioning are available.

To learn more or to apply for the South Carolina Equipment Distribution Program, go to scedp.sc.gov.

Holly Fisher is a writer living in Mt. Pleasant, S.C.
About AARP South Carolina