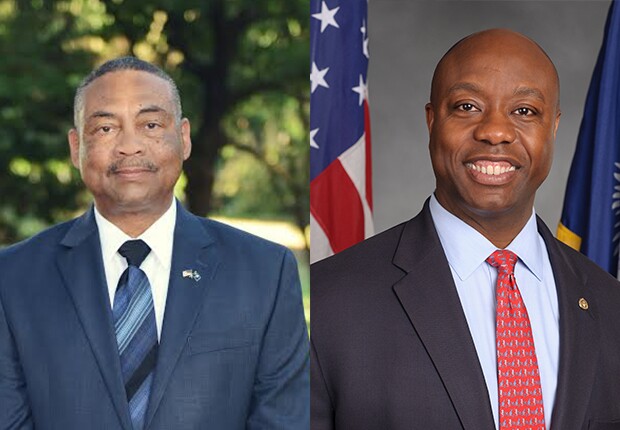 By Holly Fisher
South Carolina's low income levels and high rate of food insecurity among older residents have made Social Security and Medicare important issues this election year.
AARP South Carolina is urging members to ask presidential and congressional candidates about their views on Social Security and how to maintain it in the future. It's a key issue in a state that ranks 43rd for median household income, forcing residents to stretch their limited resources to pay for food, housing and medicine.
Teresa Arnold, state director for AARP South Carolina, calls Social Security a "totally nonpartisan issue" and one that is vital to AARP members. Unless action is taken, program benefits could be cut by about 25 percent after 2034.
"Cutting people's Social Security would be devastating," especially for those relying on the benefits as their sole source of income, Arnold said. "We're trying to get candidates to … commit to doing something."
South Carolina's candidates for U.S. Senate agree on a need to take action. Republican Sen. Tim Scott, 51, is being challenged by Democrat Thomas Dixon, 64, a former pastor and founder of Summerville Christian Fellowship in the Lowcountry. Both candidates responded to questions by email.
Dixon said Social Security "must not be privatized, nor weakened with later retirement age or benefit cuts. Those are not solutions but penalties."
He supports raising the payroll cap from $118,500 to $250,000 and closing some tax loopholes. He also supports increasing benefits for family caregivers.
Scott, a senator since 2013, said the country must honor the promises made to its older citizens.
"I believe current benefits must be protected for those who are already beneficiaries and those close to retirement age," he said.
"For folks 45 and up, they have already put the majority of their share in and should, therefore, get that share back out. But for younger folks in their 20s and 30s, I believe a step-up process for raising the age threshold is something we should take a look at."
Medicare Proposals differ
Like Social Security, Medicare, the government's health insurance program for those 65 and older, is in need of financial support. Unless changes are made, the hospital insurance part of Medicare will be unable to pay full hospital-care benefits after 2028.
Prescription drug costs are a significant Medicare issue. The average cost for a year's supply of a prescription drug more than doubled since 2006 to over $11,000 in 2013, according to the AARP Public Policy Institute.
Dixon said he would oppose a voucher system for Medicare.
"The Affordable Care Act has strengthened Medicare, with increased savings to the average beneficiary," Dixon said. "Seniors and the disabled have seen savings on prescription drug costs, and closure on the 'donut hole' in Medicare Part D is foreseeable."
As a member of both the Senate Aging Committee and the Senate Finance Committee, Scott said the issues of Social Security and Medicare are of "critical importance to me, and I am committed to working with my colleagues to find a solution that is fiscally responsible. These issues can no longer be put on the back burner.
"Millions of retirees depend on Medicare and Social Security for their everyday living expenses," he added. "We must ensure that our senior citizens continue to receive the benefits promised to them after many years of hard work."
To find out where the presidential and congressional candidates stand on Social Security, go to 2016takeastand.org.
Holly Fisher is a writer living in Charleston.
About AARP South Carolina