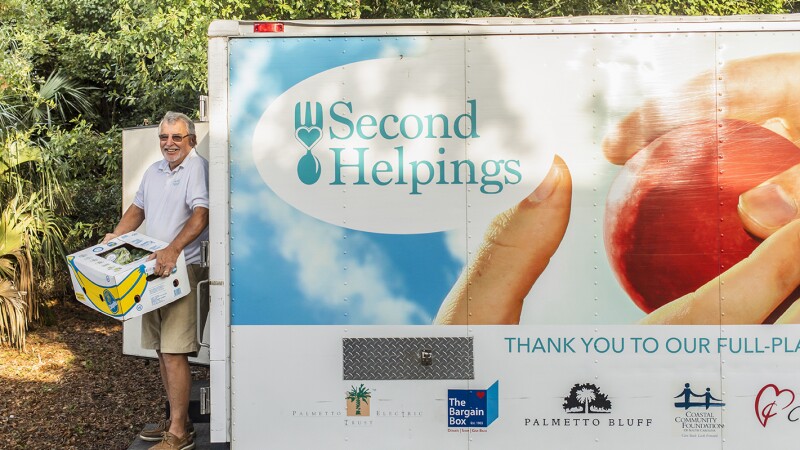 By Linda H. Lamb

When Bob Zucker talks about his three children, he doesn't just brag about their careers or families. "They're all involved in community service," he said with pride.

They've had an excellent role model in Zucker, an AARP volunteer whose many community service projects include keeping the trucks rolling and the food donations coming for Second Helpings, a nonprofit serving residents of the Low Country.

Zucker, 74, was involved with the Jaycees and other charitable groups when he lived in the New York City area. Around the time that he and his wife, Jayne, built a home on Hilton Head Island, in 1995, neighbors got them interested in Second Helpings.

Volunteers pick up donated food from grocery stores and restaurants, distributing it to food banks and other organizations that serve lower-income residents of the region.

South Carolina ranks 41st out of the 50 states in food insecurity, with 17 percent of adults over 60 facing the threat of hunger, according to America's Health Rankings.

Second Helpings serves people of all ages. Zucker, a retired math teacher, likes the organization's efficient approach.

"My typical day is to get a refrigerated truck, take it to Publix and load up whatever they have for me," he said. "Then I go to other supermarkets on the island. While I'm collecting, I'm also distributing. When I finish my day, my truck is empty and, on average, I've collected about 3,000 pounds of food."

Setting an example

Teresa Arnold, director of AARP South Carolina, praised Zucker and other AARP volunteers who are working to alleviate hunger.

"It's heartwarming, but it's also something that I think would be very easy to replicate anywhere in the state," she said.

Powered by more than 350 volunteers, donations and the generosity of store and restaurant managers, Second Helpings has established routes and pickup places where recipients await—often, people who work in the service industries that support upscale Hilton Head's economy.

There's an urgent need for truck drivers, Zucker said.

"We now have nine trucks on the road, and it's a seven-day-a-week operation," he said. "We will feed 22,000 people this year. We estimate it takes only about $100 in operating costs to distribute $2,000 worth of food."

AARP volunteers also pitch in to help with other hunger-relief efforts in the state, such as Columbia-based FoodShare, which distributes boxes of produce.

"We realized that a lot of seniors—a lot of people, period—don't have access to fresh fruit and veggies," said Carolyn Thompson, president of the Columbia AARP chapter.

She helps organize volunteer assembly lines to fill the boxes. Local residents can order boxes in advance and purchase produce at bargain prices.

Food donations come from farmers markets and Senn Brothers, a fresh-produce distributor.

For Thompson, 70, a retired insurance manager, the work is enjoyable and fulfilling.

"We're talking away on our assembly line, just having a good time," she said. "We're having fun while trying to do something to help our community."

Go to secondhelpingslc.org or foodsharesc.org to register to volunteer.

Linda H. Lamb is a writer living in Columbia.

About AARP South Carolina