In recognition of his work during the 2017 Regular Texas Legislative Session, state Rep. Tan Parker (R-Flower Mound) was presented today a Legislative Achievement Award from AARP Texas.

Representative Parker authored and fought for successful passage of legislation – House Bill 3921 – that seeks to protect older Texans from financial exploitation.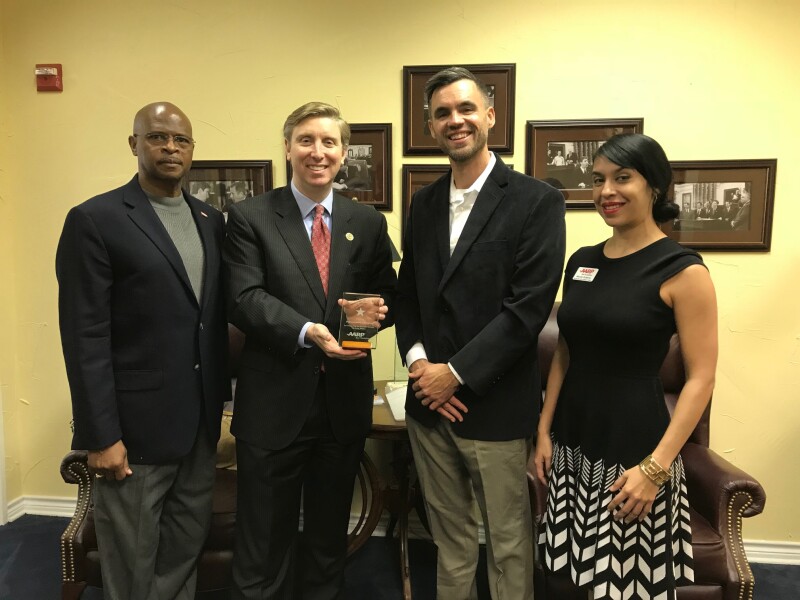 HB 3921 gives financial institutions greater authority to stop suspicious banking transactions on behalf of clients age 65 and older. The legislation, which was signed into law by Gov. Greg Abbott and took effect on Sept. 1, also directs financial institutions to clarify their reporting procedures when their employees suspect an older person may be the victim of fraud.

"Because many older people have accumulated a lifetime of assets and are trustful of others, they can become favorite targets for financial exploitation," said AARP Texas Director Bob Jackson. "This new law provides a powerful tool to stop elder financial exploitation in its tracks. Representative Parker's effort to protect older Texans is greatly appreciated."

Representative Parker, chairman of the House Investments & Financial Services Committee, also sponsored legislation that seeks to modernize estate planning. A new law that Rep. Parker helped to create authorizes fiduciaries to manage digital assets in accordance with the user's estate plan. Users' private electronic communications can now remain private unless they consented to disclosure.

Representative Parker was presented the Legislative Achievement Award on Monday at his legislative office in Flower Mound. Lawrence Randle of the AARP Texas Executive Council and Tim Morstad of the AARP Texas state advocacy team were among the presenters.

Representative Parker represents Texas House District 63 in southwestern Denton County.