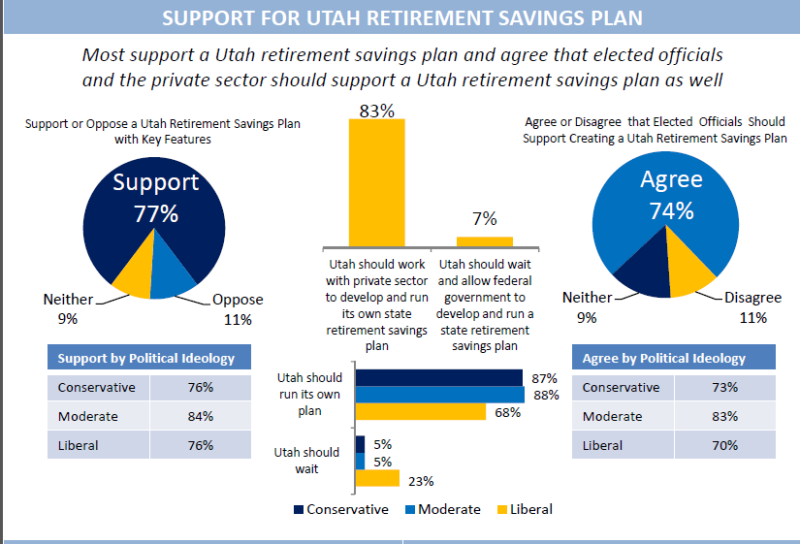 AARP Utah unveiled a statewide survey that showed a growing concern over retirement savings in the state. The survey, Making Retirement a Reality: Helping Utahns Age 25-64 Save and Take Control of Their Future, engaged 1,000 Utahns age 25-64 and found that 85 percent wish they were able to save more money for retirement and 77 percent support the idea of a state-created retirement plan for those who lack access at their place of work. One in six of those surveyed has less than $5000 in savings. Currently in Utah, 53 percent of private sector workers [1] – and 21 percent of those surveyed -- do not have access to a retirement savings plan at their place of work. The results were presented during AARP Utah's Democracy Day event at the Utah State Capitol on February 12.

These results closely match national savings trends. Nationally, the typical working-age household has only $3,000 in retirement assets, while near-retirement households only have $12,000 [2]. This growing savings gap is made worse by a decline in access to workplace savings plans. Most survey respondents across the political spectrum agree—including 87 percent of conservative voters--that Utah should work with the private sector to develop a Utah Retirement Savings Plan similar to the Utah Educational Savings Plan for college saving. The plan would be voluntary, professionally managed, authorized by the state but with no ongoing costs to taxpayers.

Of the one in five without a retirement savings vehicle at work, 84 percent said that they would take advantage of such a plan if it were offered to them.

"Traditionally we've looked at financial security in retirement as a three legged stool. In order to live the life you've planned for you needed a pension, private savings and Social Security," said AARP Utah State Director Alan Ormsby. "Unfortunately, we've seen 2 of those legs erode over time as fewer people have access to pensions, and private savings have suffered during the recession."

To help ensure workers retire with adequate savings, Senator Todd Weiler (R-23) has introduced Senate Joint Resolution 9, which urges Utah's workers and the business community to work with the Legislature to develop a model for providing small business retirement savings through the workplace. According to Senator Weiler, "Millions of people in our country, and many in our state, are running out of savings after they retire. Often they don't have a retirement plan or IRA at work, leaving them much more likely to retire with Social Security as their only source of income. I would like to work with the business community to give employees who work with businesses that don't offer any other retirement plans another option to start saving at work."

AARP Utah released a study Notalys LLC earlier this year which showed that one in five Utahns will retire with more debt than savings, but that modest increases in net worth would greatly improve retirement readiness and reduce government expenditures on public assistance programs. These findings underscore the importance of savings vehicles for Utahns during their income-producing years.

AARP has a retirement calculator that can help people determine if they are on track for financial security in retirement. The full survey annotation is available at http://www.aarp.org/UtahWorkandSave.

[1] AARP Public Policy Institute tabulation of the U.S. Census Bureau's Current Population Survey, March Supplement (2011-2013)

[2] Nari Rhee PhD, The Retirement Security Crisis: Is it Worse than We Think? (National Institute on Retirement Security, June 2013) p. 1.