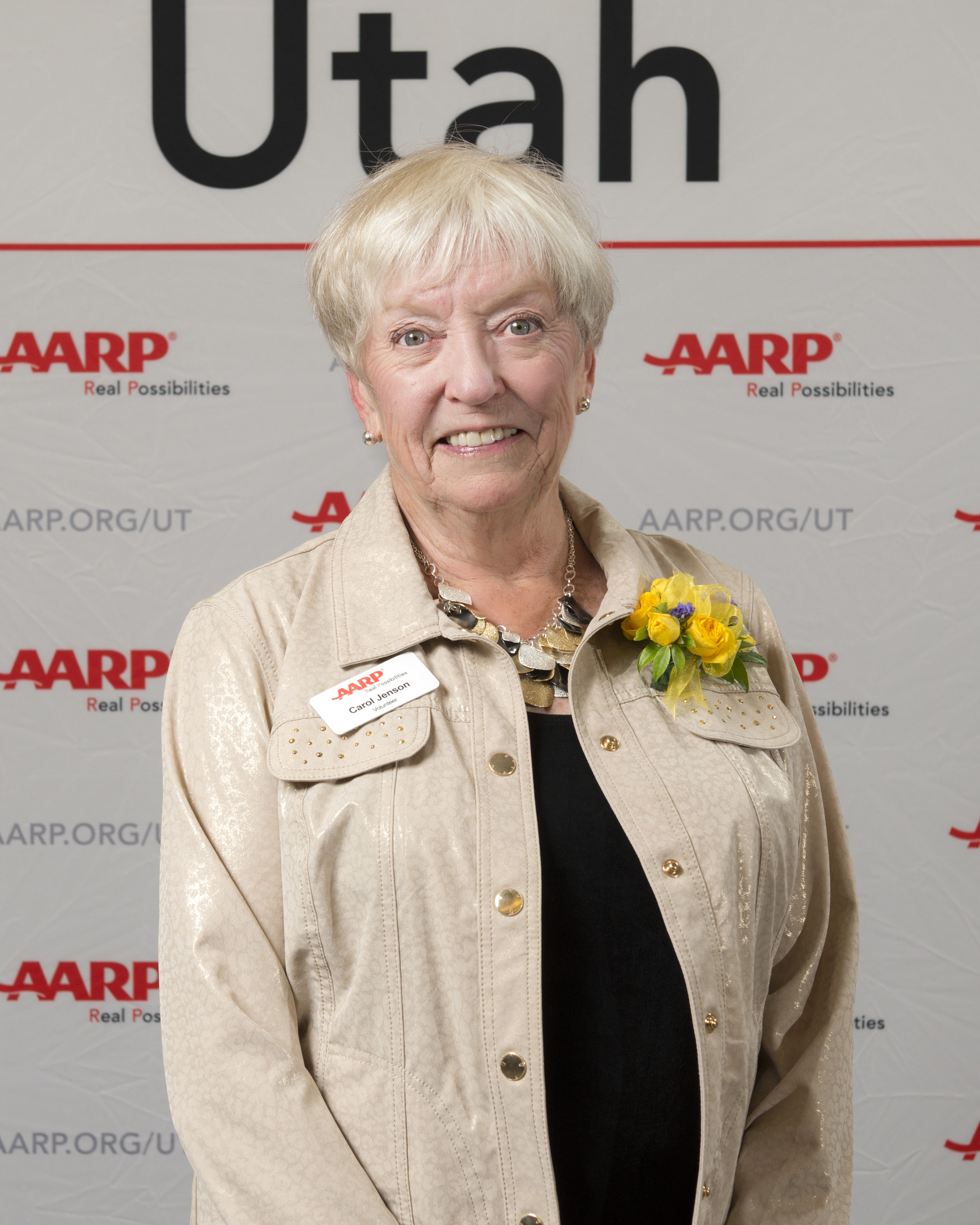 AARP Utah was pleased to bestow the 2015 Andrus Award for Community Service to Carol Jenson. Carol is a dedicated, tireless volunteer with the Utah Food Bank, delivering food boxes to seniors every week. Though the Food Bank only asks volunteers to deliver to a maximum of three people, Carol serves 21. These people not only anticipate her arrival with food to supplement their diets but the social interaction with the pleasant and caring person who brightens up their lives. One the rare occasions when she is unable to make it, Carol makes sure that food is delivered to the people who depend on it. She spent at least 250 hours at the Food Bank last year and was honored as their Volunteer of the Year in 2014.

But her work with Utah Food Bank is not confined to helping seniors live with dignity and comfort. She and others she has recruited have inspected several sites where Food Bank-sponsored Kids Cafe trucks provide meals to students who participate in after-school programs. At the Food Bank Carol fill backpacks with food for children to help them maintain proper nutrition over the weekend when school meals are not available to them. She has also coordinated AARP "Drive to End Hunger" events with Rocky Mountain Raceways to help benefit Utah Food Bank by arranging for free admission to the races if fans bring five cans of food. Carol is also overseeing volunteers to staff the AARP Utah-sponsored Mobile Food Pantry to feel children at Midvale Elementary School throughout the next academic school year.

Carol is also a member of the AARP Utah Executive Council, Women's State Legislative Council, and League of Women Voters. Further, she is a court-appointed special advocate (CASA) for children who become involved in the Utah Justice System, advocating for two teenage boys in court, in school, and at home.

The Andrus Award for Community Service, named for AARP's founder Ethel Percy Andrus, is the highest volunteer recognition award given by AARP in the state. Andrus Award recipients across the nation were chosen for their ability to enhance the lives of AARP members and prospective members, improve the community in or for which the work was performed, and inspire others to volunteer. Carol was selected from a pool of 21 nominees, all of whom have made significant contributions to the communities in which they live. Art Sutherland, one of AARP Utah's Area Coordinators, nominated Carol for this award.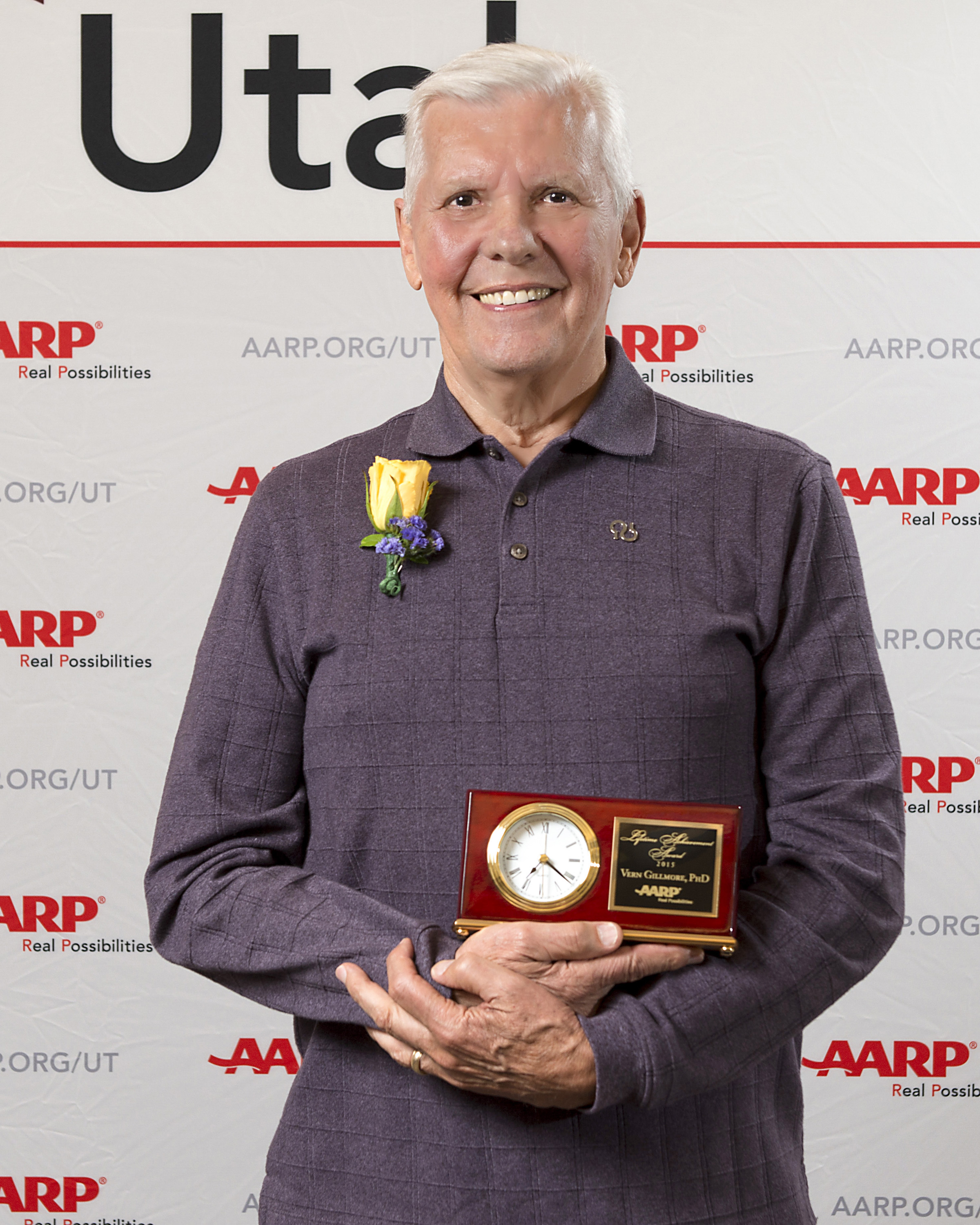 AARP Utah also gave a Lifetime Achievement Award to Vern Gillmore for his work with the Alzheimer's Association Utah Chapter; through this role he has spoken at various hospitals, senior centers, conferences, and Alzheimer's Association events to help raise awareness about Alzheimer's disease and the importance of early diagnosis. The ultimate goal of Vern's message is to encourage those concerned about dementia to speak with their physician, seek treatments early, and learn more about their diagnosis in order to plan for the future and live their best lives. Vern's work is focused on reducing the negative stigma associated with Alzheimer's disease so individuals aren't afraid to speak with their doctors. Vern was diagnosed with Alzheimer's disease three years ago at the age of 80, and by telling his story he shows people first-hand the capacity that those with this disease have for making a difference.

Photos by Don Wilhelmsen.