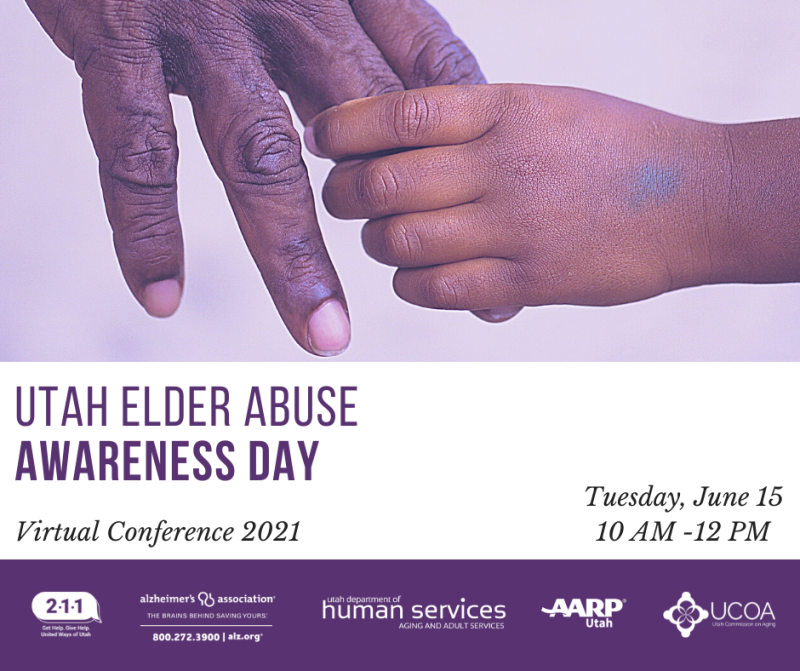 Governor Cox Proclaims World Elder Abuse Awareness Day in Utah
Virtual conference brings together local community and elder abuse prevention leaders
Salt Lake City, Utah – Recent reports show that elder abuse is on the rise in Utah and that thousands of cases of elder abuse are reported each year. With estimates from the U.S. Census Bureau indicating that nearly 17 percent of Utah's population will be over age 60 by the year 2030, this is a critical public health issue.

According to AARP Utah State Director, Alan Ormsby, "Approximately one in 10 Americans aged 60+ have experienced some form of elder abuse. This abuse is often a silent problem that robs older adults of their dignity and security and can cost them their lives." Ormsby continued, "In Utah, a mandatory reporting state, we have great partners and services to assist vulnerable and elder adults to stop and prevent abuse."

Today's Utah Elder Abuse Awareness Virtual Conference brought together local experts to shine a spotlight on what elder abuse is, how to spot it and how to reduce the risk of becoming a victim. Cohosted by Utah's Division of Aging and Adult Services, AARP Utah, Utah Commission on Aging, the Alzheimer's Association Utah Chapter, Utah 211, and Utah's Association of Area Agencies on Aging, the free event was an opportunity for Utahns to gather to discuss best practices for preventing and responding to the maltreatment of older and vulnerable adults in this state and across the world.

"In Utah, financial exploitation is the highest allegation investigated, followed by caretaker neglect. And even with mandatory reporting laws, elder abuse is believed to be an underreported crime," said Utah Governor, Spencer J. Cox. "And so, it is up to all of us to protect our aging population and report if we suspect that any vulnerable adult has been the subject of abuse, neglect or exploitation."

Following his remarks, Governor Cox proclaimed June 15, 2021 as World Elder Abuse Awareness Day in Utah and encouraged all communities to recognize and celebrate older adults and their ongoing contributions to the success and vitality of our country.

World Elder Abuse Awareness Day (WEAAD) was launched on June 15, 2006 by the International Network for the Prevention of Elder Abuse and the World Health Organization at the United Nations. WEAAD is in support of the United Nations International Plan of Action acknowledging the significance of elder abuse as a public health and human rights issue. WEAAD serves as a call-to-action for individuals, organizations, and communities to raise awareness about elder abuse, neglect, and exploitation.

To report suspected abuse, notify the nearest law enforcement office or Utah Adult Protective Services Monday – Friday at 1-800-371-7897 or online.