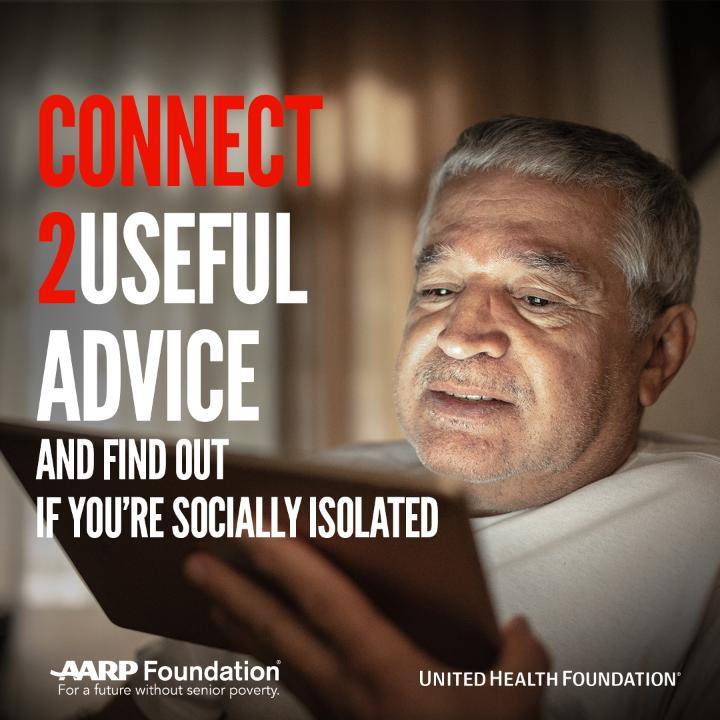 The science is clear: emotional support matters — especially as we age.

Spending time with people we love is fun. It's also vital to our mental and physical well-being.

More than four decades of research has found that social isolation is a major health risk for older adults, comparable to high blood pressure, smoking or obesity. Not only can having a rich social life help you live longer, but it can also increase your sense of purpose and belonging, reduce your stress level, and help you cope with trauma.

Now, though, the coronavirus pandemic is severely limiting social interactions. Shutting down gathering places makes sense as a way to slow the spread of the virus, but it also leaves many older adults isolated.

If you're feeling cut off from the people and activities that sustain you, you are — ironically — in good company. In an online survey of 2,010 U.S. adults conducted by AARP Foundation and United Health Foundation, two-thirds of respondents said they were experiencing social isolation because of the pandemic, and more than 7 in 10 agreed that it has made it more difficult for them to connect with friends. What's more, 66% agreed that the pandemic has caused their anxiety level to increase.

Women over 50 have been especially hard hit, with women more likely than men to say the pandemic has caused them to feel a lack of motivation, more anxious than usual, and more sad.

And yet, many aren't turning to family, friends — anyone, really — for help.

Distancing doesn't have to mean disconnection.

That's where AARP Foundation's Connect2Affect can make a difference.

Connect2Affect's self-assessment helps you understand whether you or a loved one may be at risk of social isolation and find ways to become more connected. The site also offers a collection of resources — from mutual aid groups to video chat guides to a searchable Local Resource Directory — that can help you stay connected, not just during the pandemic but whenever you need support.

One of those resources is Social Check-In, an assessment you can take in 5 minutes using just your voice. Setup is easy; just follow the instructions for your device. Then tell your device to launch Social Check-In, answer a few questions about yourself, and get a text message with your results telling you whether you may be at risk of social isolation. The text also shares resources to help you live a more connected life, even in a pandemic.

It's beginning to look a lot like … a very weird holiday season.

For many people, the holidays are a time of celebration and sharing with the ones we love. Yet it's also true that not everyone welcomes this season. Some may not have anyone to celebrate with, or even any place to go, putting them at risk of loneliness and isolation.

This, of course, that risk extends to all of us. Even those who usually spend the holidays with family and friends are advised to limit the size of their gatherings and maintain physical distance.

But you can still get together virtually. Check on your loved ones or neighbors by phone, text or video chat. Participate in virtual activities or meet-ups at a local senior center or library. You can even join virtual volunteer efforts to provide crucial services in your own neighborhood while also keeping yourself and others safe.

The important thing is to connect, in any (safe) way you can. It's the greatest gift you can give yourself, your health, and your loved ones.

For more ways to connect, search AARP Foundation's Local Assistance Directory to find social activities, support groups and virtual volunteer opportunities in your area.