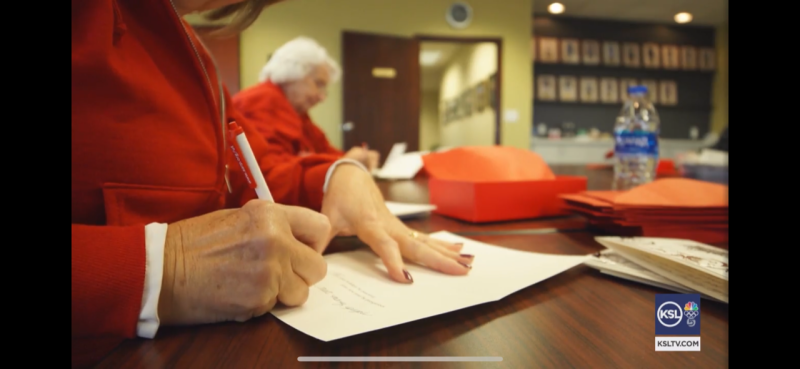 Thousands of Utah's senior citizens are facing the holiday season alone and isolated this year.

A simple act of kindness can make a big difference.

The most wonderful time of year can feel less than wonderful if you're spending it alone. That's why volunteers with AARP Utah did something special. This past December they wrote Christmas cards for 250 elderly Utahns who are homebound to go along with Giving Tree presents donated by someone in the community.

"We hope that it will make someone happy, and make someone know that they do make a difference and that they are important," said Jill Duke, AARP community outreach director.

Sarah Voigt, a volunteer who lives in Kaysville said, "They maybe don't have any relatives that will look in on them and this is one way to make them happy about the holiday."

Utah's Aging and Adult Services served Meals on Wheels to almost 18,000 homebound clients last year.

The state's Adult Protective Services have investigated more than 700 cases of self-neglect this year. The need for a little extra love is great. It's an effort anyone can do at home to help elderly neighbors.

Afton January with Salt Lake County Aging and Adult Services, said, "Individuals who go to church with you, who live on your street, who volunteer in your children's school. This is a great way to show that you care."

Bruce Hutchingson, a volunteer who lives in Daybreak said, "It's been pretty depressing for the last almost two years now. And to have somebody reach out with a small gesture of a Christmas card probably helps lighten their day a little bit."

January said, "The more isolated people are, the poorer their health outcomes tend to be. So, by reaching out to people, it really can contribute to better overall health." It's a generosity of spirit that gives people a more hopeful outlook and spreads Christmas cheer.

Pat Thompson a volunteer who lives in Sandy said, "I hope that they'll know that there are some people out there who really do care about them, and even though they don't have daily contact with them, they still care about them and want them to know that they count. Even as small of a thing that it is, will bring them some kind of joy."

Watch the KSL News Story Here!