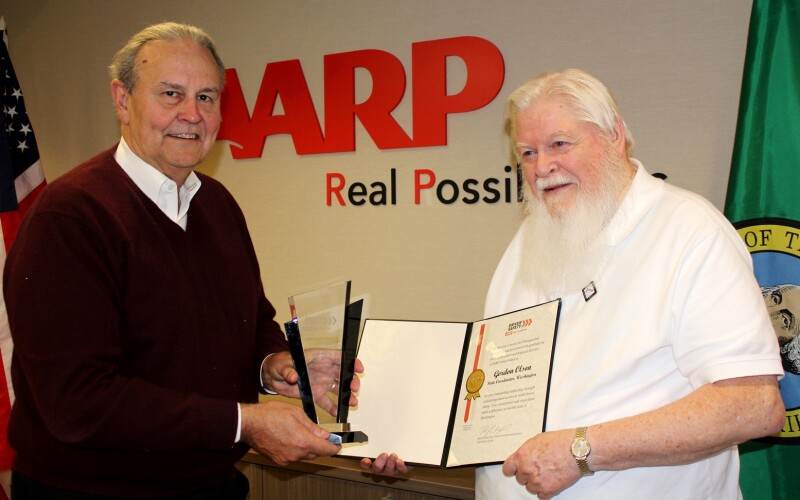 AARP Washington would like to say thank you our outgoing Driver Safety State Coordinator, Gordon Olson. Gordon steps down from the top volunteer leadership role after serving two four year terms, managing 130 volunteers in Washington State.

"Gordon Olson has been a long standing volunteer, committed and dedicated to the success of the AARP Driver Safety program in Washington as State Coordinator," said Kyle Rakow, vice president and national director of AARP Driver Safety. "Our hardworking volunteers serve as our foundation, and we're grateful to have had Gordon be a part of the Driver Safety leadership. We're also thankful that he will stay on as an Instructor, as his passion and dedication for keeping drivers safe in invaluable."

AARP Driver Safety first launched in 1979 as an educational program to help to keep older drivers independent, safe and confident while on the road. Today, AARP Driver Safety continues to meet the needs of older drivers through innovative programs that include the AARP Smart Driver™ Course (in both classroom and online settings), the Driving Resource Center, the CarFit Program (which helps drivers adjust their vehicles for safer driving) and the "We Need to Talk" program (which helps families with relatives whose driving years may be at an end to hang up the keys).

"I took the course and I stayed on as an Instructor," Gordon says. He had taught technical courses in the military and found Driver Safety a natural and satisfying fit.

Gordon began teaching safety courses for AARP in 2004. Throughout his 13 years of service, in addition to his role as State Coordinator, Gordon has also served as an Instructor, Data Manager, and Trainer, as well as a Coordinator for both We Need to Talk and CarFit programs. As an Instructor, he personally taught 159 courses, helping a total of 1,680 drivers stay safe.

"When I retired, I decided I'm either going to lie on the couch or I'm going to stay busy and do something and live to be 100," said Gordon. "And I chose to live to 100. It keeps me out in the community and keeps me busy. I'm satisfied that I'm helping older drivers be more comfortable on the road and if they're more comfortable, they're a better driver and a safer driver."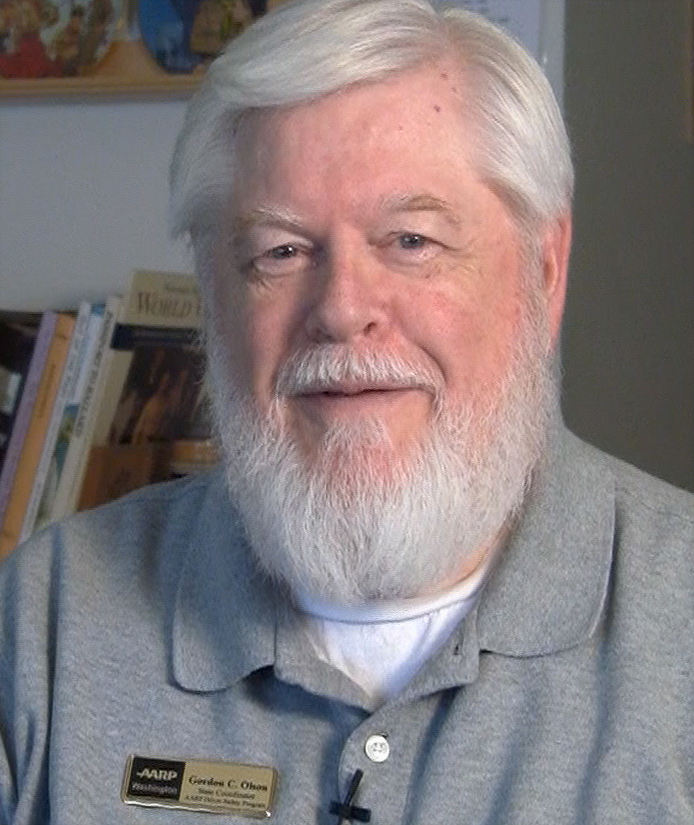 Not only is Gordon an AARP volunteer, he's volunteered for the Boy Scouts for nearly 50 years (his three sons are all Eagle Scouts), the Lake City Lions Club, the Nordic Heritage Museum, and most of all, as Santa Claus! Around June each year, he starts letting the white beard grow.

"My charge for that is a child's smile," he says.

Gordon believes AARP's Driver Safety programs provide a valuable use of his time to benefit the community.

"The cars have changed, the roads are changing, and people change as they age", says Gordon. "Your car is a computer now. A big change on the road is all the new bike lanes and regulations that go with them. And people have to adapt to physical changes as they age, that they might not be as flexible as they were, or see as well or react as quickly as they once did. Our classes keep people driving safer longer."

Learn more about the AARP Driver Safety Program here. Washington law mandates you get a rebate on your car insurance for completing the Smart Driver course. Check with your insurer for details.