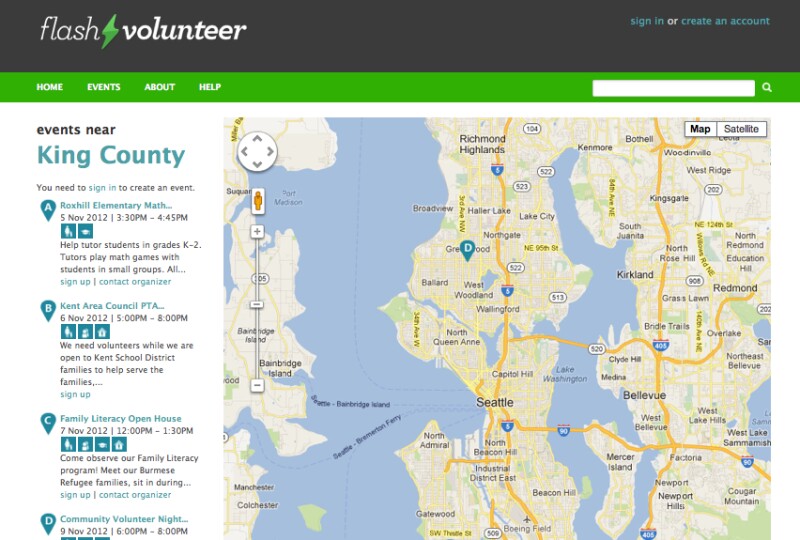 Fl as h Volunteer, a Seattle company that boosts volunteerism through an innovative website, has won an AARP Foundation prize. The project emerged from a competition at the University of Washington as part of the Foundation's new contest.

The Flash Volunteer team developed software that allows users to create, discover and sign-up for local volunteer opportunities, and includes logging-in at those events using their mobile phones.

Flash Volunteer previously won the $10,000 Microsoft Social Innovation Award at the Seattle Innovation Fast Pitch competition in October 2011. The Flash Volunteer team is composed of Executive Director Brad Wilke, Development Directors Logan Buesching and Janis Lee, Fundraising Director Melissa Collett and Marketing Director Holly Wyrwich.

"We're honored to be awarded the AARP Foundation Prize, as I think our selection speaks to the fact that more and more retirement-age Americans are hungry for new ways to engage with each other and the communities in which they live," said Brad Wilke, Flash Volunteer Executive Director. "Flash Volunteer is working hard to create inclusive technology solutions that help bridge the gap between generations while offering new ways for everyone, regardless of age, to make a positive impact in their communities."

The AARP Foundation Prize seeks to inform younger generations of the challenges faced by low-income older adults and to incentivize entrepreneurs to develop viable, innovative and scalable solutions to those challenges. The prize was initiated in 2012 and is given to contestants in University business-plan competitions who present ideas that innovatively address the needs of low-income older adults in the areas of housing, hunger, income and isolation.

"The AARP Foundation Prize appreciates the power of innovation to provide new solutions to existing challenges," says Patrick Landers with the AARP Foundation. "It recognizes the unique capacity of our university students to create those new solutions and encourages them to do so."

The AARP Foundation Prize is part of AARP Foundation's overall effort to win back opportunity for struggling Americans 50+ by being a force for change on the most serious issues they face today: housing, hunger, income and isolation. By coordinating responses to these issues on all four fronts at once, and supporting them with vigorous legal advocacy, the Foundation serves the unique needs of those 50+ while working with local organizations nationwide to reach more people, work more efficiently and make resources go further.

For more information about the AARP Foundation prize follow @AARPFoundPrize on Twitter.