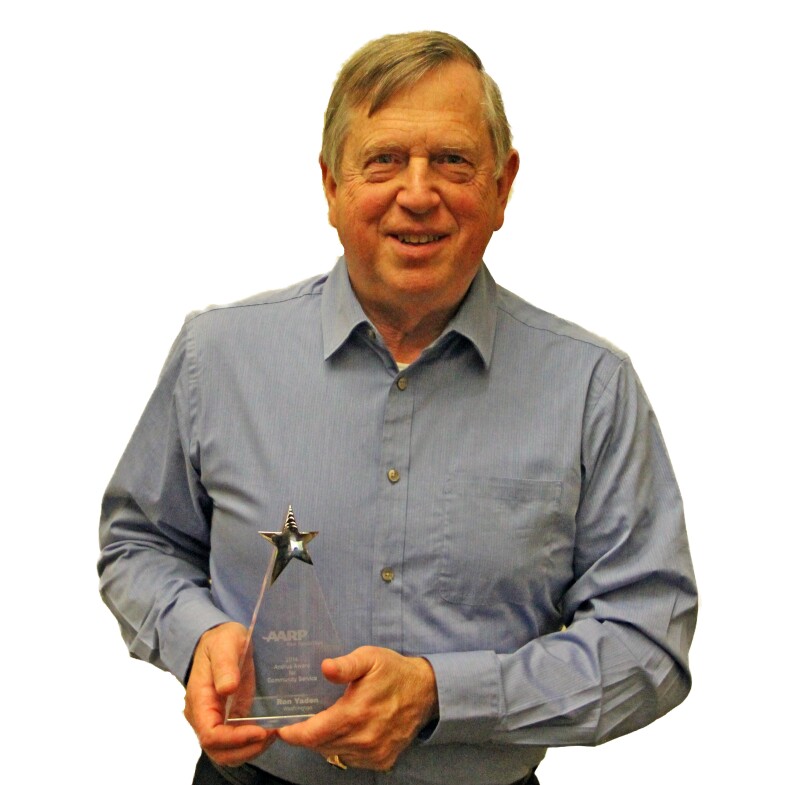 Ron Yaden of Tacoma has been honored with the 2014 AARP Washington State Andrus Award for Community Service. Ron is extraordinarily dedicated to helping his community here in the Northwest and personifies the dedication of our AARP volunteers.

He works in the AARP Foundation Tax-Aide program at the Ruston Senior Center, both providing tax preparation help for those who need it and training new volunteers. AARP's "Finances 50+" series was presented by Ron and he also teaches an array of senior computer skills classes, as well as giving one-on-one help. He's brought other classes and social activities the Center, such as Mexican Train Dominoes, Pinochle, Ping Pong, Investment Club, dances and much more. He currently serves on the Ruston Senior Center's volunteer Advisory Board.

His work with Shoes 4 Africa has helped that charity send new shoes to Africa to prevent parasite infections. Another charity is he serves is Projects For A Cause, which develops new intitiatives to help the community. The first project was making pillow cases for the local children's hospital.

"Ron's attitude and disposition are inspiring," says Ruston Senior Center Director Kathryn Quebe. "He has been an active AARP volunteer for more years than I have known him. The work that he does at the Senior Center encourages a better quality of life for our seniors."

Ron has created new programs within the Senior Center and has inspired others to do so. Volunteers have been able to access his programs and knowledge of computers, taxes, fraud prevention, financial resources, and much more.

AARP will award $1,000 in Ron's name to the charity of his choice.

Thank you Ron, for your service in 2014!