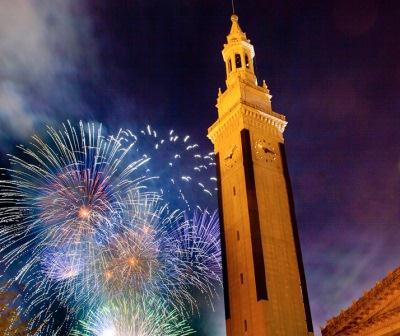 By Carol Brooks Ball and Catherine Kenny

When the Fourth of July rolls around in the Bay State, most people have made plans to spend the day celebrating with family or friends. Many, in fact, have July 4 th traditions they hold dear, returning to the same spot year after year to watch a fireworks display or attending a cookout or even relaxing at a favorite beach.

But perhaps you're looking for a new way to celebrate the holiday and America's independence. If so, we've compiled a list of events across the state that are fun and age-friendly, no matter your age or the age of those celebrating with you!

1. Boston Pops Fireworks Spectacular, Hatch Memorial Shell on the Esplanade, Storrow Drive and Mugar Way: Watch the city's annual fireworks extravaganza with seats on the lawn and music by conductor Keith Lockhart and the Boston Pops Esplanade Orchestra. The fireworks display can be seen from lots of places in Boston, but the best seats are on the grass along the banks of the Charles River. Tighter security and restrictions are in effect this year so be sure to check what's okay to bring with you before you go. For information, visit http://www.july4th.org/

2. Boston Harborfest, downtown and waterfront districts with main events at City Hall Plaza: This enormous 6-day festival celebrates Independence Day with more than 200 events each day, all of which are held in Boston's history-rich downtown, waterfront, and City Hall Plaza. On July 4 th alone, some 43 separate events take place, beginning at 9 a.m. with a flag raising ceremony on City Hall Plaza and concluding that evening at 10 p.m. with the fireworks extravaganza on the Esplanade (see #1, above). There's just too much to list here, so be sure to visit http://www.bostonharborfest.com/thursday.html

3. Old Sturbridge Village, Sturbridge: Known as an "outdoor museum," Old Sturbridge village replicates what life was like in New England in the 1830s, complete with villagers (actors in character) wearing traditional garb. Independence Day festivities abound, including a citizen-led parade with accompaniment by a martial band, the reading of the Declaration of Independence, and a chance to sign a huge reproduction of the historic document.For information, visit http://www.osv.org/event/independence-day-celebration

4. Pittsfield Fourth of July Parade, Pittsfield: The Pittsfield Fourth of July Parade, which dates back to 1824, was once named one of the "10 Best Parade Venues" by the International Festival and Events Association. The theme of this year's parade is "America the Beautiful-The Land That I Love", and some 177 different groups and organizations are taking part. Gov. Deval Patrick is among them! For information, visit http://www.pittsfieldparade.com/page.php?PageID=232&PageName=Home

5. Independence Day Celebration, Amherst: The festivities take place on fields behind the UMass McGuirk Alumni Stadium. There will be music by the Deerfield River Ensemble and the Amherst Community Band, and blacksmithing demonstrations by a master blacksmith. Events include hot air balloon rides, children's games, pie-eating and corn-husking contests, and much more! For information, visit http://www.amherstma.gov/index.aspx?NID=1558

6. Star Spangled Springfield, Riverfront Park: This evening program begins at 7:30 p.m. with music by the National Guard Band of the Northeast. At 9:30 p.m., a fireworks extravaganza led by the fireworks-famous Grucci family of New York, takes place over Memorial Bridge. The fireworks program is synchronized with music, which is simulcast on Springfield's own MIX 93.1 FM radio station.For information, visit http://www.brightnights.org/starspangle/index.html

7. Plymouth's Fourth of July Festivities: What better place to celebrate America's birthday than the city called "America's Hometown"? The parade, which kicks off at 9:30 a.m. at Mayflower Business Park, is comprised of approximately 30 organizations and groups, and include bands, floats, and more. Prizes are awarded in a variety of categories. In the evening, festivities move to the waterfront, beginning with a concert by the Legion Bud Band at 7 p.m., followed by fireworks at 9 p.m For information, visit http://www.july4plymouth.com/

8. Marblehead Fireworks and Harbor Illumination: Since the fireworks display is set off from a barge at the mouth of Marblehead Harbor, it's said that there are no bad viewing spots in this oceanfront town! That said, the best-known locations include Riverhead Beach, Fort Sewall, Fort Beach, Crocker Park, and Chandler Hovey Park. The fireworks display gets underway at 9 p.m., and the harbor illumination-in which red flares surrounding the harbor are lit, thus illuminating the entire harbor-begins at 8:45 p.m. Boaters fill the harbor for the best views of all. For information, visit http://marbleheadfireworks.org/site/

9. 138th Brockton Fair: Billed as one of the country's oldest fairs, the Brockton Fair runs from June 28-July 8, and features a large fireworks display on July 4 th (and other evenings as well). With lots to see and do, including a magic show, horse racing, figure-8 racing, stock-car football, a petting zoo, livestock shows, and more, this is a terrific place to spend Independence Day with the whole family. For information, visit http://www.brocktonfair.com/

10. Reading of the Declaration of Independence/Boston Harborfest, Boston: If you'd rather move beyond fireworks and festivities, this event, which solemnly commemorates the reason for Independence Day, might be for you. The Declaration of Independence will be read from the balcony of the Old State House, located at the corner of State and Washington Streets, just as it was on July 18, 1776. The reading takes place from 10-10:30 a.m. That afternoon at 3 p.m., take part in "Independence Comes to Boston," a special tour by the Bostonian Society, and learn how our liberty came about and what it means today. For information, visit http://www.bostonhistory.org/ Note: This event is part of Boston Harborfest (see #2, above).

From all of us at the AARP MA office, have a happy and safe Fourth of July!