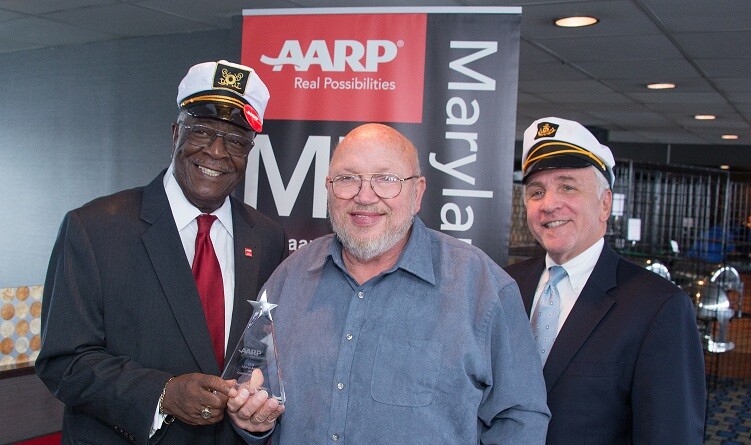 Theodore "Ted" Mobley of Harwood, Maryland, has been awarded the 2014 AARP Maryland Andrus Award for Community Service--the Association's most prestigious and visible state volunteer award for community service.

AARP Maryland selected Mobley for his remarkable service which has greatly benefited the community and inspired other volunteers. Mobley brings the Celebrate Recovery Inside program to two prisons in Maryland's Anne Arundel County. The program provides the opportunity for inmates to receive help for their "hurts, habits and hang-ups" with a special emphasis on those inmates suffering with drug and alcohol addictions, and Mobley's program is having great success.

The Andrus award was formally presented to Mobley at a ceremony in Baltimore in September.

"This award acts as a symbol to the public that we can all work together for positive social change," says Hank Greenberg, AARP Maryland State Director. "AARP has long valued the spirit of volunteerism and the important contributions volunteers make to their communities, neighbors, and the programs they serve."

Recipients across the state were chosen for their ability to enhance the lives of AARP members and prospective members, improve the community in or for which the work was performed, and inspire others to volunteer.




Additional awards were given for excellence in volunteer service in the following categories (winners pictured above):

Advocacy: Chuck Ridgeway of Eldersburg
Communications: Elois Wiggins of Silver Spring
Outreach: Bettie LaMar of Upper Marlboro
Chapter Leader: Judy Litke of Glen Burnie
Maryland Retired School Personnel Association (MRSPA): E. Stuart Tucker of Baltimore
AARP Driver Safety: Roselyn Hobson of District Heights
AARP Tax Aide: Pat Shiflett of Baltimore
AARP Experience Corps: Cheryl Bryant of Baltimore
Community Partner: Baltimore County Department of Aging

These awards are given in celebration of volunteerism and service across Maryland! Learn more about why volunteering in Maryland can be so rewarding:

Volunteers Can Play Many Vital Roles

Stay Connected: The Latest Volunteer Opportunities with AARP in Maryland