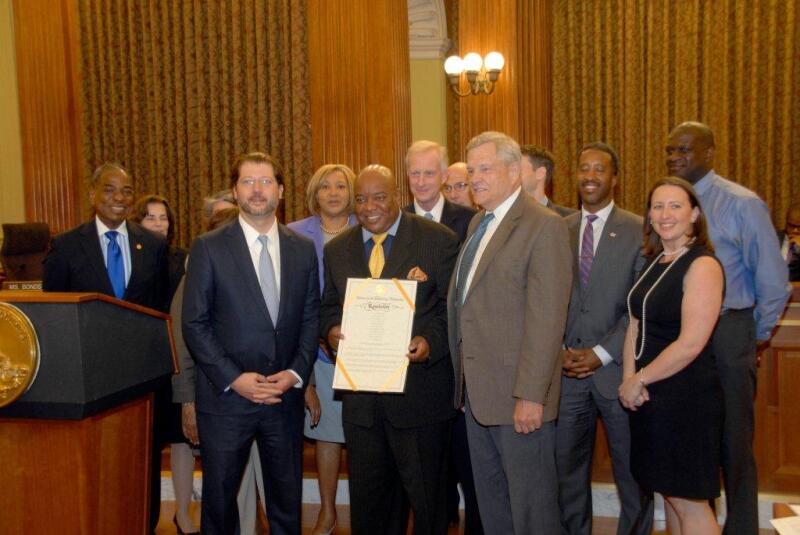 As the U.S. population continues to age and as people stay healthy and active longer, American cities, towns, and counties must adapt to the needs of changing demographics to serve the interests of their residents and sustain economic and social vitality. Communities that adopt progressive and forward-thinking public policies and urban planning models will attract and retain more residents, provide varied business opportunities to serve the older populations, their families, and caregivers, and build infrastructure and policies that are friendly to all ages.
The District of Columbia is one of 50 communities representing over 30 million people in the U.S. that are part of the AARP Age-Friendly City Communities Network. Since, the initiative launched in April 2012, members of the DC Council have publicly expressed support for the effort. On May 5, 2015 The Council presented AARP DC State President Joseph Williams and Executive Council member Ron Swanda with a resolution supporting the District's age-friendly cities initiative and the Age Friendly DC Strategic Plan that was submitted last December. Government agencies will come together with businesses, faith-communities, non-profit organizations, and other community stakeholders to implement the strategic plan designed to improve the quality of life for persons of all ages.
AARP and the World Health Organization recognize the importance of creating "age-friendly communities" and are working together with communities across the United States to encourage and promote age-friendly planning and policies. An "Age-Friendly Community" entails an inclusive and accessible urban or suburban environment that encourages active and healthy aging. The program is affiliated with the World Health Organization's (WHO) Global Network of Age-Friendly Cities and Communities®, an international effort to get cities and towns prepared for two significant ongoing trends in the world: rapid population aging, and increasing urbanization.
AARP's participation in this program will advance efforts to help people live easily and comfortably in their homes and communities as they age. It will advance goals in areas such as housing, caregiving, community engagement, volunteering, social inclusion, and combating isolation among older citizens.