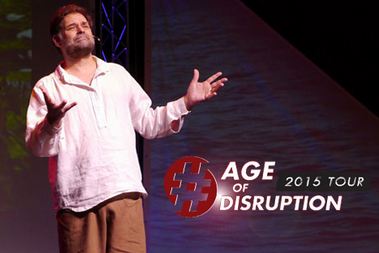 Our culture tells us that aging will change us against our will, and for the worse. Internationally acclaimed longevity expert Dr. Bill Thomas argues that this is false. Inspired by AARP CEO Jo Ann Jenkins' recent call-to-arms for a sustained effort to "disrupt" aging, Dr. Bill Thomas is heading back on the road in 2015 with Aging: Life's Most Dangerous Game, part of the "Age of Disruption Tour" coming to Connecticut's Nelson Hall at Elim Park in Cheshire on April 22, 2015.

Reserve your free tickets today!

Blending myth and science, music and visuals, Dr. Thomas shows audiences how to turn the tables on "Life's Most Dangerous Game" and how to approach aging with the skill and enthusiasm it requires.

During the performance, Dr. Thomas challenges audience members to reject ageist stereotypes and embrace the moments of life that offer the greatest risk, reward and possibility. The mixed-media performance begins with a light-hearted look at just how "crazy" our culture's perspective on normal human aging can be and then asks: "What if?" What if we all lived in a world that saw aging not as a process of decline but rather as the entree to life's most dangerous game?

Dr. Thomas will take audiences on an incredible journey into a new and highly disruptive understanding of age and aging that has the power to inspire positive change for members of the audience and the communities in which they live.

WHAT: Age of Disruption Tour presents "Aging: Life's Most Dangerous Game" featuring Dr. Bill Thomas
WHEN: 7:00 p.m. to 8:30 p.m., April 22, 2015
WHERE: Nelson Hall at Elim Park, 150 Cook Hill Road, Cheshire, CT 06410

FREE Tickets can reserved online at www.drbillthomas.com. For more information, please call 860-628-9000.

This event is being generously supported by the Alzheimer's Resource Center of Connecticut.

SPECIAL BREAKFAST EVENT FOR HEALTH CARE PROFESSIONALS
Connecticut's health care professionals and others who provide care for an aging population are also invited to attend a special presentation by Dr. Bill Thomas on April 22, 2015 from 8 a.m. to 9:30 a.m. at the Saint Mary Home Auditorium, 291 Steele Road, West Hartford, CT. This educational event is designed to help health care leaders "hit the reset button" with their clinical staff and help them think about aging in terms of exciting new opportunities to create greater satisfaction and better outcomes at lower cost. To RSVP for this morning event, please send an email to: lgomez@mchct.org.