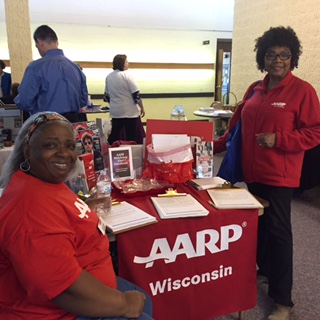 Are you looking for that special "something" that allows you to give back to your community?
Many AARP members in Milwaukee and across Wisconsin volunteer in AARP programs to improve the lives of their families and neighbors.

We invite you to learn more about what volunteers are doing in Milwaukee and to lend your talents, interests and passion as a member the AARP Milwaukee Community Outreach Team.

AARP Milwaukee Community Outreach Team members will:

Represent AARP at resource tables at area Fairs, Expos and similar public events.
Look for opportunities for AARP to host a resource table at area Fairs, Expos and similar public events and,
Invite others to join and promote our AARP Milwaukee Community Outreach Team.


If you are passionate about AARP, outgoing and enjoy engaging with the community, this opportunity is for you!

Please join us as we share more about what we are building in Milwaukee and give you the opportunity to get on board. The same information will be provided twice, giving you every opportunity to participate. The choice of times is yours and there is no obligation to volunteer.

Tuesday, May 19, 2015
10:00 a.m. to 12:00 p.m. OR 1:00 p.m. to 3:00 p.m.

Nonprofit Center of Milwaukee
2nd Floor Training Room
2819 W. Highland Boulevard
Milwaukee, WI 53208

Complimentary light refreshments will be served, however space is limited and an RSVP is required. To reserve your space, please register online by Friday, May 15.

We look forward to seeing you there!